A Husband's Reward for Honoring His Wife
By David Chadwick
Husbands, you are told to honor your wives (1 Peter 3:7). As you do, there will be a reward for you: Your prayers will not be hindered.
Perhaps many of us as husbands have not experienced the reality of answered prayer because we have not yet learned how to honor our wives. Answered prayer and honoring our wives are inextricably connected.
Prayer is a powerful spiritual weapon. Jesus's disciples noted the potency of prayer in his ministry. They observed the sick being healed, the demon-possessed being delivered, and numbers of lives changed by Jesus's preaching about the Kingdom of God.
Jesus's disciples concluded that Jesus's power source was his prayer life. That's why they asked him to teach them how to pray (Luke 11:1). Above all else, they wanted power in their prayer lives.
Husbands, do you want power in your prayer life? If so, learn how to honor your wife. Make a commitment to value, esteem, and prize her every day and in every possible way. Lift her high above other earthly priorities.
As you do, your prayers will no longer be hindered.
And you should experience the power of God in prayer like never before.
---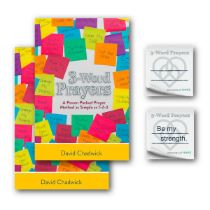 Simplify your prayer life with three words
Prayer is vital to our spiritual health. It's so important that 1 Thessalonians 5:17 tells us to "Pray without ceasing." Yet we often find it difficult to follow that command. Relationships and responsibilities vie for our attention, and prayer often gets placed on the back-burner. But it's possible to make 2019 your year of focused and increased prayer!
David Chadwick's latest booklet, 3-Word Prayers, can help you do just that. It suggests a power-packed approach to prayer that cuts through life's busyness. And, it's as simple as 1-2-3—just trim your prayers to three words.
For more from Moments of Hope, visit us at MomentsofHope.org.