Faith comes by hearing and hearing comes by the word of God. (
Romans 10:17
)
We live in a noisy world, especially with the cacophony of television blaring out the same news over and over again. In fact, we are constantly entertained by the potpourri of news media available to us. We constantly move to the sound of music resounding in our ears. There are iPhones, iPods, and MP3's constantly speaking to us. We should rather be willing to come aside so that we can listen for God's voice in the stillness—away from the cacophony of everyday life, our own agendas, and our own screaming demands—in order to be used by Him.
---
Live a bigger life every day!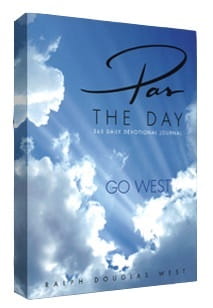 Every day when you wake up, the God of the universe is waiting to meet with you. He wants to encourage you and give you the strength to make His big dreams and purposes for you a reality.
As Hebrews 11:6 says: "He is a rewarder of those who diligently seek Him" (KJ21).
We want to help you seek and find His encouragement for you every day this year by sending you Pastor West's powerful 365-day devotional journal, Pas the Day.
With biblical truth, inspirational thoughts, and practical applications of God's Word, this daily devotional is the perfect resource to help you live above the everyday and walk closer to Christ in the year ahead.
Pas the Day is our gift to thank you for your renewed financial support below to help encourage more people with the life-transforming truth of God's Word in 2018.
Thank you for your generosity today – and be encouraged!