"No longer do I call you servants, for a servant does not know what his master is doing; but I have called you friends, for all things that I heard from My Father I have made known to you." (John 15:15)
When the disciples kept our Lord's words, they saw what they saw because they walked where they walked:
• They saw the blind see because they walked to Jericho.
• They saw the lame walk because they walked to Galilee.
• They saw the grave give back the dead because they walked to Bethany.
You too can see God's surprising suppliers if you walk in obedience with Him. But you can't
have "Burger King (Have It Your Way) religion" and then expect God to work miraculously in your life. 
---
Live a bigger life every day!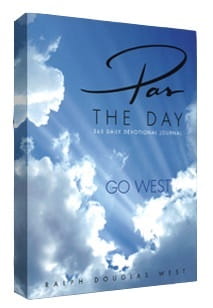 Every day when you wake up, the God of the universe is waiting to meet with you. He wants to encourage you and give you the strength to make His big dreams and purposes for you a reality.
As Hebrews 11:6 says: "He is a rewarder of those who diligently seek Him" (KJ21).
We want to help you seek and find His encouragement for you every day this year by sending you Pastor West's powerful 365-day devotional journal, Pas the Day.
With biblical truth, inspirational thoughts, and practical applications of God's Word, this daily devotional is the perfect resource to help you live above the everyday and walk closer to Christ in the year ahead.
Pas the Day is our gift to thank you for your renewed financial support below to help encourage more people with the life-transforming truth of God's Word in 2018.
Thank you for your generosity today – and be encouraged!