"Then they said to Him, 'Lord, give us this bread always.' And Jesus said to them, 'I am the bread of life. He who comes to Me shall never hunger, and he who believes in Me shall never thirst.' " (John 6:34-35)
The "I AM" statements made by our Lord applies to every area of our life and will be our unexpected surplus. 
When we need protection and shelter, "I am the good shepherd" (
John 10:11
). When we are thirsty and try to fill our emptiness with money or material things, but instead reach a point of dehydration, "I am the living water" (
John 4:10
). When our dreams and hopes seem dead, "I am the resurrection and the life" (
John 11:25
). When we're hungry for meaning, purpose, acceptance, and self-esteem, "I am the bread of life" (
John 6:35
).
---
Live a bigger life every day!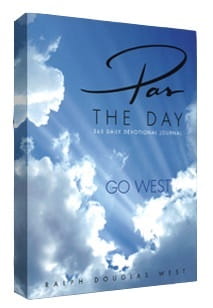 Every day when you wake up, the God of the universe is waiting to meet with you. He wants to encourage you and give you the strength to make His big dreams and purposes for you a reality.
As Hebrews 11:6 says: "He is a rewarder of those who diligently seek Him" (KJ21).
We want to help you seek and find His encouragement for you every day this year by sending you Pastor West's powerful 365-day devotional journal, Pas the Day.
With biblical truth, inspirational thoughts, and practical applications of God's Word, this daily devotional is the perfect resource to help you live above the everyday and walk closer to Christ in the year ahead.
Pas the Day is our gift to thank you for your renewed financial support below to help encourage more people with the life-transforming truth of God's Word in 2018.
Thank you for your generosity today – and be encouraged!