"Do not labor for the food which perishes, but for the food which endures to everlasting life, which the Son of Man will give you, because God the Father has set His seal on Him."  (
John 6:27
)
The 5,000 who had just been miraculously fed by the hand of the Lord misconstrued the message beyond the sign. They wanted the Lord to give them food, instead of inquiring about the meaning behind the sign. Verse 27 is the key to this passage: every good gift that comes to you is a gratuity from God. The good news is that God's gifts to you are not predicated on your response to Him. Rather, God's graciousness to you is a matter of His character and doesn't depend upon your works. 
 
---
Be challenged by Romans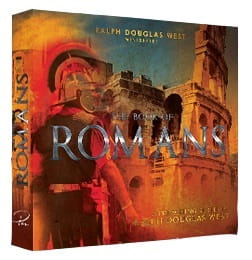 Romans doesn't let us sit still. In Romans, Paul talks about the obligation we are under to spread the truth of the Gospel and to engage with the culture around us. He talks about the journey we must make after we accept the God's gift of salvation. We are called to leave our comfortable and easy corners and spread the message of Christ's sacrifice to everyone around us, because we have been freely justified!