. . . even when we were dead in trespasses, made us alive together with Christ (by grace you have been saved), and raised us up together, and made us sit together in the heavenly places in Christ Jesus. (Ephesians 2:5)
This statement does not teach that faith is a meritorious cause of salvation. It rather asserts that even though faith is the appropriating means, it is the hand that receives the gift. John Knox, the Scottish Reformer, rendered the verse this way: "Yes, it was grace that saved you, with faith for its instrument." The word itself means "trust or reliance upon." The phrase "through faith" implies that we can't even believe without God's gift of grace: it is the gift of God.
---
Living in the In-Between Times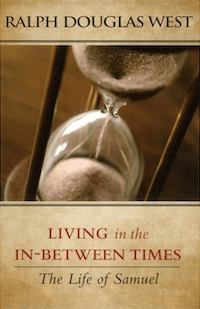 As people following Christ, we all experience stop and go, arrival and departure, life and death. We know about living in between pivotal moments. It's easy to believe that God is not at work in the ordinary. But He is! Through my book Living in the In-Between Times, you'll discover how God speaks to you, how you can respond, and the significance of decisive commitment to the will of God.