So the Lord relented concerning this. "This also shall not be," said the Lord God. (Amos 7:6)
God responds to the hidden intercession of the prophet by relenting. That is, He changes His mind because He is deeply moved by Amos' plea. This is a puzzling mystery but also a glorious reality. At times, God does relent from pouring out His wrath on a nation. Contrary to popular thinking, the God of the Bible is not some rigid deity or some inflexible machine; instead, He personally responds in a dynamic dialogue with those who fervently pray and intercede for their nation.
---
See more of God and His amazing grace in your life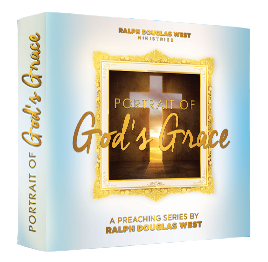 If God seems distant and disconnected from your daily struggles…If you feel unworthy of being called a Christian…Or if you're just not feeling the joy of your relationship with Christ…Then you need a fresh perspective on God that comes through Portrait of God's Grace. This 5-CD message series from Pastor West will help open your eyes to God's work in your life as you experience more of His amazing grace.