"Is there anyone still left of the house of Saul to whom I can show kindness for Jonathan's sake?" (2 Samuel 9:1 NIV)
The previous promises of David are clearly evident in his request to show grace to anyone in the house of Jonathan. Is there anyone? He doesn't ask, is there anyone qualified for grace? Remember, none of us deserves grace. Neither did he say, is there anyone worthy? Grace is clear when it asks, is there ANYONE still living who ought to be the recipient of my grace? Grace is a demonstration of love that is undeserved, unearned, and un-repayable. That's unqualified acceptance based on unconditional love.
---
See more of God and His amazing grace in your life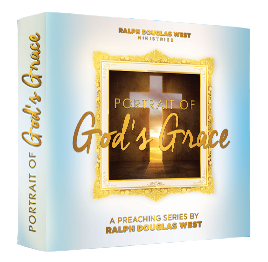 If God seems distant and disconnected from your daily struggles…If you feel unworthy of being called a Christian…Or if you're just not feeling the joy of your relationship with Christ…Then you need a fresh perspective on God that comes through Portrait of God's Grace. This 5-CD message series from Pastor West will help open your eyes to God's work in your life as you experience more of His amazing grace.