Special Gifts
At one of our St. Louis events, Lisa Nichols of Technology Partners shared lessons she has learned for the workplace through the parenting of her daughter, Allie. One important lesson is this: what others may perceive as a handicap may actually be a "special gift."
As a young lady with Down's Syndrome, Allie's special gift, like many with Down's Syndrome, is bringing unhindered love and joy to those around her. Her hugs and smiles are cherished by many.
1 Peter 4:10 teaches, "As each one has received a special gift, employ it in serving one another as good stewards of the manifold grace of God."
Look closely for the special gifts in each of your team members, and then, encourage them to use their gifts generously.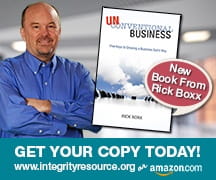 Learn more about Rick Boxx and Integrity Resource Center