A Foretaste
By: Rick Boxx
June 13, 2013
My church hosted Amy Sherman, author of "Kingdom Calling," at one of our conferences. She shared a powerful word picture.
If you've ever been in an ice cream or yogurt store, you have likely seen the sample spoons that many stores provide. These small spoons are designed to allow you to have a foretaste of their product before you choose which flavor you want to purchase.
Amy used this simple illustration to remind us that each of us should be a "foretaste" of heaven for those working around us.
Psalm 34:8 teaches, "O taste and see that the LORD is good; How blessed is the man who takes refuge in Him!"
Working in a winsome and loving way can have a great impact on others and point them towards our Creator.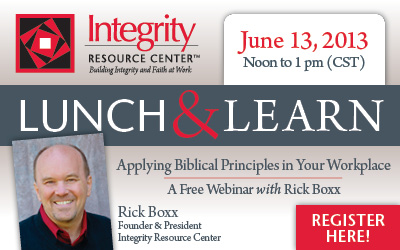 Contact Rick Boxx at www.integritymoments.org, and to learn more about Integrity Resource Center go to integrityresource.org.