A Cheerful Year End
Per information on mobilecause.com, 10% of all charitable gifts are given between December 29th and the 31st. Many business leaders and owners' generosity is directly tied to year-end profits.
In the year-end rush of completing the task of giving, it could be easy to overlook the leading of the Holy Spirit and miss out on the joy of generosity for you personally.
2 Corinthians 9:7 teaches, "Each of you should give what you have decided in your heart to give, not reluctantly or under compulsion, for God loves a cheerful giver."
If you're about to make some year-end giving decisions, pause, pray, and remember God may want you to give to someone you haven't previously considered, or to give an even larger amount than what your inclined to give.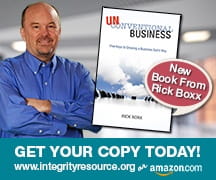 Learn more about Rick Boxx and Integrity Resource Center