"Nadie tiene mayor amor que este,
que uno ponga su vida por sus amigos."
San Juan 15:13 RV Cuando Jesús caminó sobre la tierra, Él habló mucho del amor; y aún más importante, nos mostró como era cuando Él quedó colgado en la Cruz, muriendo por un mundo perdido y enfermo de pecado.
Muchos han seguido en los pasos llenos de abnegación de Cristo durante los años y los siglos. El término "mártir", del griego para la palabra "testigo", fue primero usado en referencia a los Apóstoles. Pero cuando la persecución de cristianos aumentó, el término fue usado para todos los cristianos que sacrificaron sus vidas antes que negar a su Señor. El Padre de la Iglesia del segundo siglo Tertuliano declaró que "la sangre de los mártires es la semilla de la Iglesia," significando que el sacrificio complaciente de los creyentes de sus vidas atrajo a otros a la fe en Jesucristo.
Muchos de nosotros han oído las historias valientes de aquellos mártires de la Iglesia temprana, pero la verdad es que más cristianos han muerto por su fe desde 1900 que en todos los siglos anteriores de la Cristiandad combinada. Incluso hoy, en este mismo momento, alguien en algún sitio sufre por el amor a Cristo.
¿Pero y aquellos de nosotros que vivimos en países donde la persecución al punto de encarcelamiento, tortura, o muerte no ha invadido todavía nuestras vidas? Estamos agradecidos por esa libertad de adoración, y ojala que estemos orando y apoyando a aquellos cristianos menos afortunados. ¿Pero significa esto que no tenemos la oportunidad de mostrar a los demás el gran amor que es nuestro derecho-de-nacimiento como creyentes, aquel amor que es evidenciado viviendo una vida desinteresada?
Esto es una pregunta que me he preguntado muchas veces. A veces la respuesta no es exactamente lo que quiero oír.
Un día hace unos años yo oraba para dirección en mi vida y ministerio cuando oí el susurro de Señor a mi corazón, "Alguien tiene que arreglar las sillas." Yo sabía que el Señor acentuaba la necesidad de servir a los demás en el ministerio, entonces fácilmente me puse de acuerdo.
Entonces, unas semanas más tarde, yo corría a gran velocidad, tratando de llevar a cabo demasiadas cosas en muy poco tiempo, cuando realicé que había aún otro detalle del que yo tenía que ocuparme para mi anciana madre, que vive con nosotros. Fue entonces cuando me descubrí quejándome — y no me gustó el sonido de ello en absoluto.
"Perdóname mí, Señor," susurré.
Alguien tiene que arreglar las sillas, vino la respuesta.
Atontada, realicé que Dios quería que yo entendiera que mis decisiones de "día-a-día" y a veces de "momento-a-momento" para servir a los demás no eran restringidas solamente a aquellos trabajando jornada completa en el ministerio, sino también a aquellos con quien me relacionaba todo el tiempo. Realicé también que las opciones desinteresadas requeridas para aquella clase de servicio pueden ser a veces mucho más difíciles de lo que yo había considerado eran "los grandes sacrificios."
Esto es una lección que trato de guardar en el centro de mis pensamientos cada día, y en particular ahora que el Día de San Valentín, el llamado "Día de los Enamorados," está sobre nosotros. Si realmente queremos modelar el amor parecido al amor de Cristo, el gran amor que somete sus propios deseos a Dios y se da a los demás, entonces haríamos bien al recordar que alguien tiene que arreglar las sillas — y también hacerlo sin quejarse.
¿Por qué no comenzar con alguien cerca de usted? En vez (de o además de) dar a una caja de bombones o un ramo de rosas, pida a Dios mostrarle un camino 'para despojarse de su vida" como un acto del amor desinteresado hacia aquella persona — no sólo durante el Día de San Valentín, pero a lo largo del año.
***
"Greater love has no one than this,
than to lay down one's life for his friends."
John 15:13
When Jesus walked the earth, He talked a lot about love; more importantly, He showed us what it looked like when He hung on the Cross, dying for a lost and sin-sick world.
Many have followed in Christ's self-sacrificing footsteps over the years and centuries. The term "martyr," from the Greek for "witness," was first used in reference to the Apostles. But as persecution of Christians increased, the term was used for all Christians who gave up their lives rather than deny their Lord. The second-century Church Father Tertullian declared that the "blood of the martyrs is the seed of the Church," meaning that believers' willing sacrifice of their lives drew others to faith in Jesus Christ.
Many of us have heard the valiant stories of those martyrs of the early Church, but the truth is that more Christians have died for their faith since 1900 than in all the previous centuries of Christendom combined. Even today, at this very moment, someone somewhere is suffering for love of Christ.
But what about those of us who live in countries where persecution to the point of imprisonment, torture, or death has not yet invaded our lives? We are grateful for that freedom of worship, and hopefully we are praying for and supporting those Christians less fortunate. But does that mean we have no opportunity to show others the great love that is our birthright as believers, that love that is evidenced in selfless living?
It's a question I've asked myself many times. Sometimes the answer isn't exactly what I want to hear.
One day a few years ago I was praying for direction in my life and ministry when I heard the Lord whisper to my heart, "Somebody has to set up the chairs." I knew the Lord was stressing the need to serve others in ministry, so I readily agreed.
Then, a few weeks later, I was running at breakneck speed, trying to accomplish far too many things in far too little time, when I realized there was yet another detail I needed to attend to for my elderly mother, who lives with us. That's when I caught myself grumbling—and I didn't like the sound of it at all.
"Forgive me, Lord," I whispered.
Somebody has to set up the chairs, came the answer.
Stunned, I realized God wanted me to understand that my day-by-day—sometimes moment-by-moment—decisions to serve others weren't restricted to those in fulltime ministry, but also those with whom I interacted all the time. I realized too that the selfless choices required for that sort of service can at times be much more difficult than what I had considered the "big sacrifices."
It's a lesson I try to keep at the center of my thoughts each day, and particularly now that Valentine's Day, the so-called "holiday of love," is upon us. If we really want to model Christ-like love, the greatest love that submits its own desires to God and gives itself away for the sake of others, then we would do well to remember that someone has to set up the chairs—and then do it without grumbling.
Why not start with someone close to you? Instead of (or in addition to) giving a box of chocolates or a bouquet of roses, ask God to show you a way to "lay down your life" as an act of selfless love toward that person—not just on Valentine's Day, but throughout the year.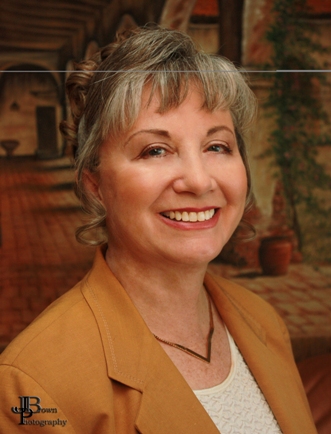 Kathi Macias, popular speaker and prolific author, is an Angel-award winning writer who has published nearly thirty books, including her latest releases, Mothers of the Bible Speak to Mothers of Today (New Hope Publishers) and My Son John (a novel from Sheaf House). Whether keyboarding her latest book, keynoting a conference, or riding on the back of her husband's Harley, Kathi "Easy Writer" Macias is a lady on a mission to communicate God's vision. Her insightful words—filled with passion, humor and soul nourishment—refresh audiences from all walks of life. Join Kathi as she hosts "Write the Vision" every Thursday from 6—7 p.m. (Pacific Time) via THE International Christian Network (www.theicn.com). To learn more about Kathi or to book her for your next event, visit www.KathiMacias.com. Spanish translations by Cynthia Alcantara (cynthia.alcantara1@gmail.com).