"Y les daré corazón para que me conozcan que yo soy Johová; y me serán por pueblo, y yo les seré a ellos por Dios; porque se volverán a mi de todo Corazón."
Jeremías 24:7 RV ¿Soy solamente yo, o han añadido las noticias malas a noticias más malas que ponen algo apagador a la próxima estasion de las fiestas venideras? ¡Es tan fácil enfocarse en nuestro país (y personalmente) en los infortunios financieros y por lo tanto desanimarse durante la Navidad y todo lo que esto nos representa como creyentes. ¡En las palabras del Apóstol Pablo, mis Queridos amigos, no debería ser así!
No negaré que para muchos de nosotros, las finanzas afecten el grado al cual celebramos el aspecto que dar regalos en la Navidad. Pero las finanzas (o la falta de ellas) no tienen que afectar el hecho que demos de los mejores regalos a aquellos que tan desesperadamente los necesitan.
¿Cuáles son esos regalos?
Tenemos que alumbrar la Luz del mundo a aquellos que andan en la oscuridad — y podemos hacer esto porque esa Luz vive dentro de nosotros.
Nosotros tenemos que proclamar y modelar el Amor de Dios a aquellos con corazones quebrados y percepciones sesgadas del amor — porque aquel Amor nos ha alcanzado bien adentro.
Tenemos que orar que muchos, sin tener en cuenta como de oscuro o tristes son los días (o tal vez hasta por eso mismo) quienes irán hacia Aquel quién solo es la Luz del mundo y el Donante del Amor incondicional a todos aquellos que se lo piden.
¿Expresamente, por qué no ofrecer a Jeremías 24:7 como un regalo de oración para sus seres amados, así como para aquellos que usted no conoce? En una forma regular y consistente entre ahora y la Navidad, pongamonos juntos de acuerdo para orar y decir, "Señor, dale a _________ un corazón para conocerte. Muestrale a ______ más claramente cada día que Tú eres el Señor. Creemos que _________ será Tú hijo/hija, y que Tú serás su Dios, ya que __________ volverá todo su corazón hacia Tí Señor."
Voy a hacerlo. ¿Y usted? Este es el mejor regalo que le podemos dar a alguien — y el Donante de todos los regalos buenos estará seguro para contestar.
¡Las bendiciónes a todos ustedes cuando entramos en esta maravillosa temporada juntos!
***
"Then I will give them a heart to know Me, that I am the Lord;
and they shall be My people, and I will be their God,
for they shall return to Me with their whole heart."
Jeremiah 24:7
Is it just me, or has the bad news added to more bad news put a damper on the approaching holiday season? It's so easy to get focused on our country's (and personal!) financial woes and therefore lose heart for Christmas and all it represents to us as believers. In the Apostle Paul's words, Beloved, it should not be so!
I won't deny that for many of us, finances will impact the extent to which we celebrate the gift-giving aspect of Christmas. But finances (or lack thereof) do not need to impact our giving of the very best gifts to those who so desperately need them.
What are those gifts?
We need to shine the Light of the world to those who walk in darkness—and we can do that because that Light lives within us.
We need to proclaim and model the Love of God to those with broken hearts and skewed perceptions of love—because that Love has already reached down to us.
We need to pray that many, regardless of how dark or bleak the days (or maybe even because of that very fact) would turn to the One who alone is the Light of the world and the Giver of unconditional Love to all who ask.
Specifically, why not offer up Jeremiah 24:7 as a prayer gift for your loved ones, as well as for those you don't know? On a regular basis between now and Christmas, let's agree together to pray, "Lord, give _________ a heart to know You. Show ______ more clearly each day that You are the Lord. We believe that _________ will be Your son/daughter, and You will be his/her God, for __________ shall return to You with all his/her heart."
I'm going to do it. What about you? It's the best gift we can give to anyone—and the Giver of all good gifts will be sure to answer.
Blessings to you all as we enter this wonderful season together!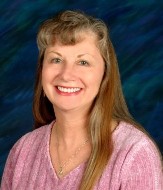 Kathi Macias, popular speaker and prolific author, is an Angel-award winning writer who has published twenty-one books and hundreds of articles. Whether keyboarding her latest book, keynoting a conference, or riding on the back of her husband's Harley, Kathi "Easy Writer" Macias is a lady on a mission to communicate God's vision. Her insightful words—filled with passion, humor and soul nourishment—refresh audiences from all walks of life. To book Kathi for your next event, email kenbarry@thebarryagency.com. For more information, visit www.KathiMacias.com. Spanish translations by Cynthia Alcantara (cynthia.alcantara1@gmail.com).