Why Wouldn't Everyone Want the Gifts of the Spirit [Part 3]
Are you ready for some good news?
The gifts of the Holy Spirit are for every Christian. You can grow in the gifts you already have and you can receive new gifts as God ordains.
Today's Text: "Now concerning spiritual gifts, brothers, I do not want you to be uninformed….Now there are varieties of gifts, but the same Spirit;" (1 Corinthians 12:1,4, ESV)
As we continue in our series on the Holy Spirit, today's broadcast explores the gift of discernment. It's an immeasurably valuable gift.
Discernment is the gift of being able to know whether a person's underlying motive, or the underlying power that controls a person, is Godly, human or satanic. While all Christians must learn to test spirits, persons with this gift often have an immediate awareness about truth and deception and may be able to specify the form of evil that is present.
Discernment is essential in the body of Christ. It enables the empowered person to see into the spirit, because there are people who look like they are being motivated by God, but they are not. There are also people that you might not yet recognize for their goodness, and God wants you to see it.
Some years ago a leader in our church came to me and said he had a dream that God had appeared to me and offered me the gift of discernment but I had turned it down. At first I scoffed. Me? Turn down a gift of the Spirit? What a foolish thought. But over the next few days the question kept coming back to me. Had I resisted the gift of discernment? If so, how? Gradually I realized that I had resisted more discernment because of a wrong assumption. The last thing I wanted was to see another problem! I had wrongly assumed that if I saw a problem that I needed to deal with it.
But now (that I've grown a bit wiser!) I realize that just because you see a problem doesn't mean you are supposed to fix it!  Discernment can help you see a problem and know that you are to turn away from it. It can help you decide who to relate to, and who might (or might not) need to be in a position of leadership. The gift of discernment can change your life. And that's the Gospel!
---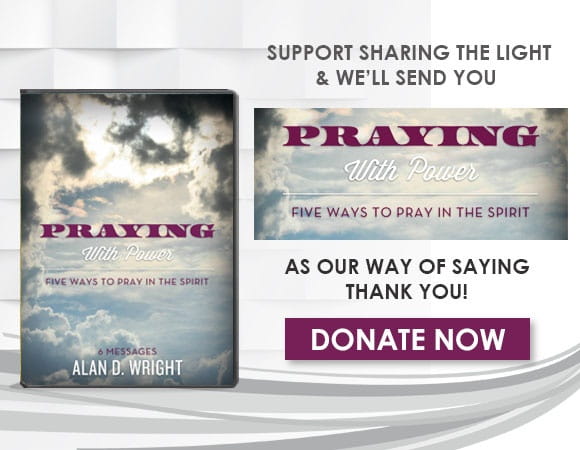 For more information please visit SharingtheLight.org.