The Seed of Life and Seed of Death [Part 1]
Are you ready for some good news?
Things aren't always what they seem, so no need to assume the worst.
Today's Text: "His brothers said to him, "Are you indeed to reign over us? Or are you indeed to rule over us?" So they hated him even more for his dreams and for his words." (Genesis 37:8, ESV)
When Joseph told his brothers of his odd dream – the brothers' sheaves bowing down to Joseph's sheaf – they assumed the worst. The jealous brothers assumed that Joseph was haughty and ambitious. They assumed that Joseph wanted to rule over them one day. Of course, as the Biblical drama would slowly reveal, nothing could have been farther than the truth. When, many years later, Joseph's brothers bowed before their long lost sibling, Joseph didn't seize upon it as an opportunity to rule them; he wept and claimed it as an opportunity to save them.
Things are often not what they seem.
Years ago, I led a renewal conference at Montreat Conference Center in the mountains of North Carolina. A friend and mentor, Rev. Bill Dudley, had handed the reigns of the conference to me but he still worked alongside me. As one of his tasks, Bill volunteered to place flowers in the rooms of our guest speakers – a gesture of hospitality and gratitude to our nationally recognized keynoters.
During the first days of the conference, Princeton Seminary president, Dr. Tom Gillespie, spoke. President Gillespie and his wife were vacating their room and headed back to New Jersey on the second day—so we thought. The next speaker arriving, Colleen Townsend Evans, would be occupying the same room in the Assembly Inn when she arrived the following day.
So, Pastor Dudley went by the front desk, explained that he wanted to put fresh flowers in Mrs. Evans' room and thus acquired the key. Imagine Bill's shock when, that night, he used the key to open the room and, behold, there in bed was Dr. Gillespie and his wife! They hadn't left!
Bill Dudley froze as President Gillespie and his wife gasped. In the shock and embarrassment of the moment, Pastor Dudley blurted out: "I'm so sorry – I thought this was Colleen Evans' room." So, there stood Pastor Dudley, a happily married man, late in the evening, holding flowers, looking for another man's wife.
More explanation was needed!
Things aren't always what they seem. We mustn't be so quick to assume the worst and make a judgment. Joseph's brothers couldn't have been more wrong. The Pharisees couldn't have been more wrong about Jesus. Christ came to save, not condemn. And that's the Gospel!
---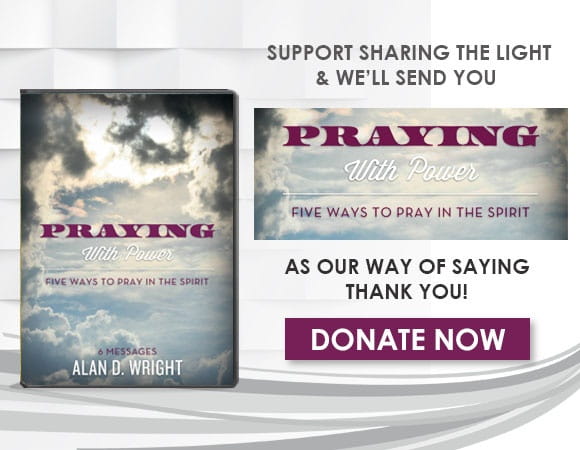 For more information please visit SharingtheLight.org.