The Secret to Unspeakable Joy [Part 2]
Are you ready for some good news?
Joy doesn't arise from pleasant circumstances; joy arises from grace.
Today's text: "I thank my God in all my remembrance of you, always in every prayer of mine for you all making my prayer with joy…." (Philippians 1:3–4, ESV)
In his epistle to the Philippians, the imprisoned Apostle Paul mentions joy 16 times. He discovered a secret: joy is a fruit of the Spirit, not a fruit of life circumstances.
We tend to obsess over our circumstances – the security of a good job, the absence of pain, the prosperity of our bank accounts. But, in his Philippian letter, Paul spends little time detailing his adversities and, instead, highlights the joy in his heart.
Some time ago, a couple won a million dollar lottery. But to anyone who knew the situation, there was a painful, ironic twist to the couple's "good luck." It turned out that the couple bought the lottery ticket with stolen funds. It was proven that, over a five year period, the couple stole from the grocery where they worked by ringing up bogus returns. A hidden camera revealed them taking money from the bogus returns and buying lottery tickets.
I'd like to say they had to give the money back, but they didn't. Ugh. Who said life is fair?
If you're waiting on your circumstances to line up before you have joy, you might wait a long time. Joy isn't link to life being "fair"; joy is linked to that which is most unfair, the grace of God.
The Greek word for grace is "charis." Two other concepts are intimately connected: The Greek word for joy is "chara" and the word for thanksgiving is "eucharistia."
Chara (joy), charis (grace), and eucharistia (thanksgiving) are inseparably linked.
When you experience the Gospel, you experience grace. Grace means, "gift." Everything that makes the Gospel wonderful is seated in the grace of God – the gift of Christ's finished work on the cross and His resurrection power.
In this world, you'll face trouble like any other human being. But, by the grace of God, you'll face your adversities in an entirely different manner. Transcending your awareness of your troubles is your awareness of the gift of God to you in Christ.
Grace, not circumstances, is at the heart of gratitude and is the cause of all joy. And that's the Gospel!
---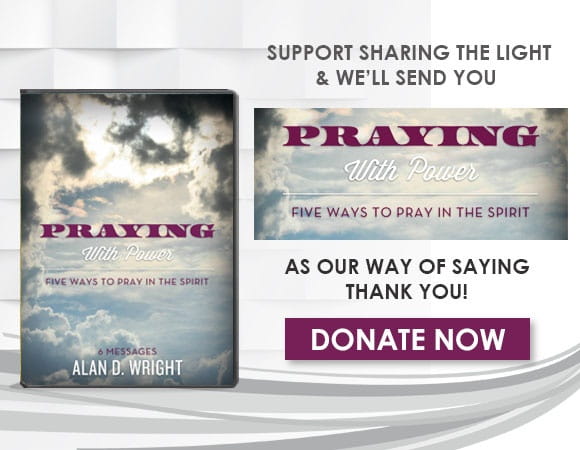 For more information please visit SharingtheLight.org.