The Love of the Law and the Law of Love [Part 1]
Are you ready for some good news?
You can move from a love of law to a law of love.
Today's Text: "Then Jacob made a vow, saying, "If God will be with me and will keep me in this way that I go, and will give me bread to eat and clothing to wear, so that I come again to my father's house in peace, then the Lord shall be my God, and this stone, which I have set up for a pillar, shall be God's house. And of all that you give me I will give a full tenth to you."" (Genesis 28:20–22, ESV)
After Jacob's vision of a ladder connecting heaven and earth, the patriarch instinctively made a vow to God. There's a pull in the sinful heart toward the law. Why?
We imagine that we can control our world by making vows and oaths that we will keep. We believe that if we just do those things then everything will turn out the way that we want it to. Both rebellion and religion are paths to self-absorption that cause us to be consumed with what we do not have. We then shape our lives around that thought, and we act like orphans who have to grab hold of things, earning affection by some other means.
We spend much of our lives in rebellion or religion, assuming that we are not blessed. We think we have to earn God's blessing. All the while God has said to us that we are chosen in Jesus Christ before the foundation of the world to be blessed with every spiritual blessing.
Let God just love you, without making a rule out of it, without making a law out of it, without running from it, without trying to explain it. The love of law is in direct competition with the law of love.
Romans 5:5 tells us that the lavish love of God is poured out by the Holy Spirit into our hearts through faith. The Greek word for this expression literally means "a flood." It is an immersion in the love of God. Let go of the love of the law. Let God baptize you in His love. Law changes nothing. God's love changes everything. And that's the gospel!
---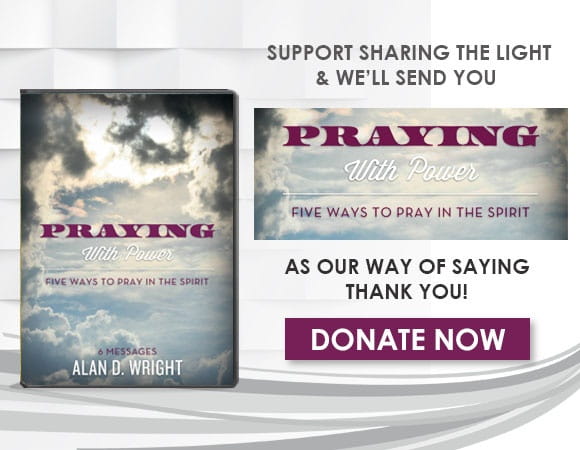 For more information please visit SharingtheLight.org.