The Lamb is On the Throne [Part 1]
Are you ready for some good news?
There is a Sovereign ruler on the throne of the entire cosmos and that supreme monarch is … a little lamb.
Today's Text: "Then I looked, and I heard around the throne and the living creatures and the elders the voice of many angels, numbering myriads of myriads and thousands of thousands, saying with a loud voice, "Worthy is the Lamb who was slain, to receive power and wealth and wisdom and might and honor and glory and blessing!"" (Revelation 5:11–12, ESV)
John's vision of heaven included a heart-wrenching scene in which no one could open a mysterious, valuable scroll: "And no one in heaven or on earth or under the earth was able to open the scroll or to look into it, and I began to weep loudly because no one was found worthy to open the scroll or to look into it. And one of the elders said to me, "Weep no more; behold, the Lion of the tribe of Judah, the Root of David, has conquered, so that he can open the scroll and its seven seals." And between the throne and the four living creatures and among the elders I saw a Lamb standing, as though it had been slain, with seven horns and with seven eyes, which are the seven spirits of God sent out into all the earth." (Revelation 5:3–6, ESV)
The One who is utterly supreme, sublimely majestic and blindingly glorious is also a little lamb who has been slain.
Who is on the throne of the cosmos? The Lamb who takes away the sin of the world.
It means that mercy is on the seat of ultimate power. It means that grace is on the throne. It's simple and breathtaking: grace has triumphed over all.
If we are going to be comforted in our times of affliction, we need to know that God is supremely powerful AND supremely gracious. On the throne of Heaven, there isn't a tyrant who ascended through terrorism but a lamb who conquered through grace. When you face life's uncertainties and you wonder how God is inclined toward your situation, remember there is a lamb on the throne. In other words, Grace rules!
And that's the gospel!
---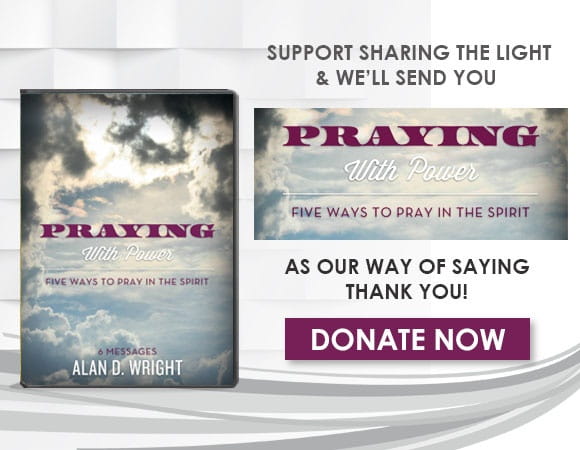 For more information please visit SharingtheLight.org.