The Hope that Doesn't Disappoint [Part 1]
Are you ready for some good news?
God's hope, unlike the world's idea of hope, never disappoints.
Today's Texts: "But Joseph said to them, "Do not fear, for am I in the place of God? As for you, you meant evil against me, but God meant it for good, to bring it about that many people should be kept alive, as they are today.." (Genesis 50:19–21, ESV)
"… and hope does not disappoint us, because God's love has been poured into our hearts through the Holy Spirit that has been given to us."(Romans 5:5, NRSV)
Some years ago, I attended my High School's thirtieth reunion. All the conversations with my old buddies were laughably the same:
Hey, Joe! How are you doing, man?
I'm doing good! How are you doing you ole' rascal?
Do you know, you haven't changed a bit – (what no one said – "other than being bald and fifty pounds heavier" ). How have things been? Are you good? What's going on with you?
Oh not much. Kids now are eleven, thirteen and nineteen.
I got one in college? Wow! Where did the time go?
What do you do with yourself? What do you do?
Well, you know how it is: Go to work, help out some with the kids' soccer team, every now and then play a little golf, and that's about it. You know. There's no more time than that.
Yeah, I know how that is.
You know, we've got to stay in touch.
Let's do.
One person after the other. Pretty much the same story. Life's good. How old are your kids? Where do you live? Do you play any ball anymore? No – just a little golf when I can.
I chuckled to think about all the hopes that we'd had. I wanted to be a professional tennis player but, uh, I'm not. I saw the former star of our basketball team – he's a banker.
But there was one guy there who was different. Lee Rouson. He was clearly the best athlete in my High School. Starred in at least three sports. He dreamed of being a pro. Guess what? He had two Super Bowl rings.
The rest of my buddies had wedding rings. Lee had Super Bowl rings! It was remarkable because it almost never happens.
Here's my point: there is such a thing as worldly hope and it will almost always disappoint. But there is a hope forged in the furnace of adversity and born in the womb of God's grace that never disappoints. Joseph's hope wasn't determined by the circumstances of the world – neither does your need to be. And that's the Gospel!
---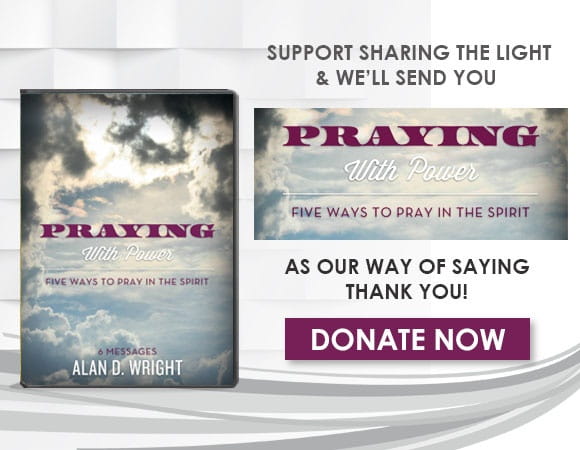 For more information please visit SharingtheLight.org.