Stephen's Miracle [Part 1]
Are you ready for some good news?
You can truly forgive others and be free when you look to Jesus, the one who forgave you.
Today's Text: "But he, full of the Holy Spirit, gazed into heaven and saw the glory of God, and Jesus standing at the right hand of God. And he said, "Behold, I see the heavens opened, and the Son of Man standing at the right hand of God."" (Acts 7:55–56, ESV)
A woman who was married for fifty years had a secret box. She kept the box locked, and although her husband pleaded many times over all those years, she never let him know what was inside.
One day, just before their fiftieth wedding anniversary, the woman's husband asked her if, for their anniversary, she would please allow him to look inside her secret box. She decided it was time. So on the special day, he opened up the mysterious box to find two doilies and a bunch of cash.
"What does this mean?" He asked.
And she said, "Well, sweetie, over the years whenever you did little things that irritated me, I decided that instead of becoming bitter towards you I would get away by myself and crochet one of these doilies and cool off a little bit. That's how I would forgive you."
He looked down into the box again. "Wow, fifty years and only two doilies! But what about all this cash? There must be two thousand bucks here."
And she replied, "Oh, that's the money I raised from selling the doilies."
No relationship lasts without ongoing forgiveness. But how can we find the grace to forgive?
Stephen was the first martyr. His unjust death is described in Acts 7. As he was being stoned to death by a furious mob, Stephen saw the risen Lord Jesus. He saw the One who had forgiven him. As the vision filled Stephen's heart, Stephen prayed the unimaginable:
And falling to his knees he cried out with a loud voice, "Lord, do not hold this sin against them." And when he had said this, he fell asleep.(Acts 7:60, ESV)
If you want to be able to forgive someone, you'll not find strength by looking within yourself. You'll find it by looking to Jesus, the great Forgiver. And that's the gospel.
---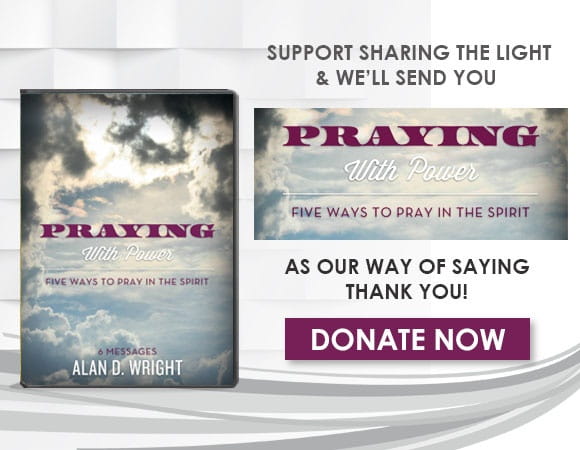 For more information please visit SharingtheLight.org.