Praying Pure Word [Part 1]
Are you ready for some good news?
When you pray the Word of God, you are praying powerfully in the Spirit!
Today's Text: "and take the helmet of salvation, and the sword of the Spirit, which is the word of God, praying at all times in the Spirit, with all prayer and supplication. To that end, keep alert with all perseverance, making supplication for all the saints," (Ephesians 6:17–18, ESV)
The key to a powerful prayer life is made clear in Ephesians 6:18 – always pray in the Spirit. Anything less than Spirit-infused, Spirit-aligned, and Spirit-empowered prayer will prove itself powerless at best and frustrating at worst.
Some have proposed that praying in the Spirit refers solely to the spiritual gift of tongues as Paul describes in his epistles to the Corinthians and the Romans. I certainly believe the gift of a heavenly prayer language is a wonderful gift, like all gifts of the Holy Spirit. But not all have the gift of tongues and it is limiting to think of Spirit-infused prayer according to one, specific spiritual gift.
Of all the modes of praying in the Spirit, perhaps the most powerful is the simplest: praying the pure Word of God.
Paul made it clear in his first epistle to Timothy: "All Scripture is breathed out by God …." (2 Timothy 3:16, ESV) To say that the scripture is God-breathed is to say it is in-spired. The Greek word for breath is the same word that is rendered spirit.
If you place your hand an inch in front of your mouth and repeat the words: "Let there be light," what do you feel against the back of your hand? Your own breath, of course. Why? Because your speech is made possible by your breath. Your words are, literally, full of your breath.
This is the beautiful image of the inspiration of scripture. God's written Word has been breathed out by God. His Spirit thus fills His Word. Therefore, when you pray the scriptures, you are praying what the Spirit has already filled.
Praying the Word of God is, therefore, praying in the Spirit.
Your prayer life won't be empowered by greater techniques or even by more fervent efforts. Your prayer life is empowered when it is infused with the life of the Spirit of God. You can pray God's word back to Him and, when you do, you are praying in the Spirit. And that's the Gospel!
---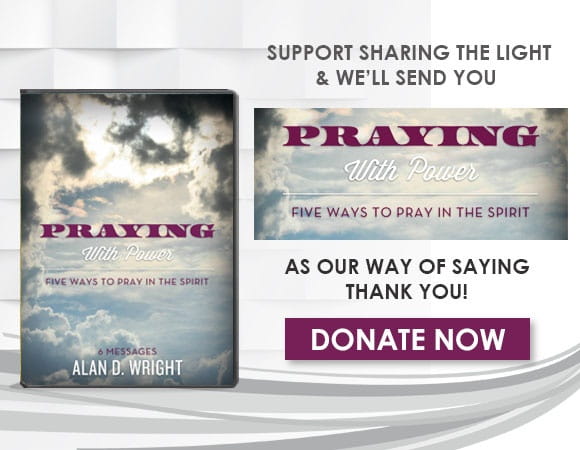 For more information please visit SharingtheLight.org.