How the Spirit Heightens the Intellect [Part 2]
Are you ready for some good news?
The more you are filled with the Holy Spirit the more your mind becomes clear. He is the Spirit of Truth. He'll enable you to see things as they really are.
Today's Text: "And their eyes were opened, and they recognized him. And he vanished from their sight. They said to each other, "Did not our hearts burn within us while he talked to us on the road, while he opened to us the Scriptures?"" (Luke 24:31–32,)
Author Stephen Covey, in his book The Seven Habits of Highly Effective People, writes about a time that he was on a subway at the end of a day. He was tired. A man boarded the train with his two boys who were rambunctious and inconsiderate of the other passengers. It bothered Stephen Covey so much that eventually he reached a boiling point and he had to say something to the man.
"Sir," he said, "aren't you going to do something about these boys? They are bothering everybody."
The man, almost as if he had awakened from a stupor, said, "Yes, I am sorry. I am not thinking straight. We have left the hospital. Their mother died this morning and I just do not know what I am doing."
As you can imagine, this changed Stephen Covey's entire outlook. Although a moment earlier he was overwhelmed with frustration, suddenly, he could honestly say, "They aren't bothering me. I am sorry. What can I do for you?"
It was the same train, the same people, and the boys were being just as rude, but suddenly he saw it totally differently. Seeing clearly made him feel totally differently about the situation.
In much the same way, the Holy Spirit transforms our minds through His ongoing presence. He gives us new perspective and understanding. He gives us peace and joy that are beyond our understanding. He makes our minds function at their very best, just as God designed. When you are filled with the Spirit, your intellect is heightened and you see things as they really are. And that's the Gospel!
---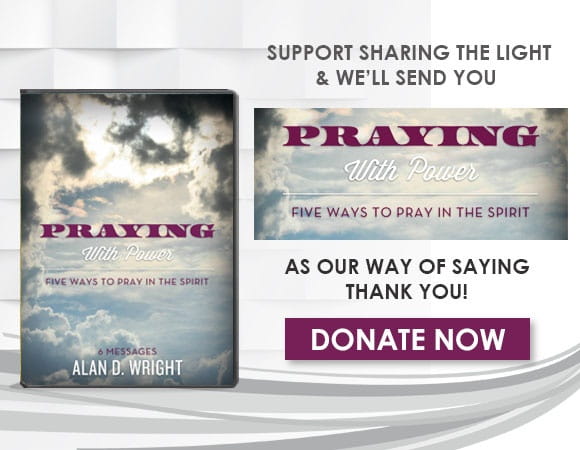 For more information please visit SharingtheLight.org.