God Still Parts Red Seas [Part 2]
Are you ready for some good news?
If you don't see a way forward right now, take heart, God still parts Red Seas.
Today's Text: "Do not be afraid. Stand still, and see the salvation of the Lord, which He will accomplish for you today. For the Egyptians whom you see today, you shall see again no more forever. The Lord will fight for you, and you shall hold your peace."(Exodus 14:13–14, NKJV)
An evil Pharaoh finally had released the slaves that he and his forbears had oppressed for hundreds of years. The Hebrews filed out of Egypt in haste on Passover night, being adorned with gold and silver from their captors. But, suddenly, the ex-slaves faced an unthinkable dilemma. Pharaoh had changed his mind. The tyrant began pursuing his former captives. The Hebrews were trapped between an impassable ocean in front and an impossible army behind.
Sometimes a crisis is harder to face when it comes on the heels of victory. Just when you think you've arrived, suddenly you face an even greater dilemma.  It's tough.
The church I serve had a celebration some years ago. We paid off the loan we had utilized for a building expansion. We tore up the loan documents in church. We cheered and worshipped God. The next month, we discovered a major leak in one of our buildings and a sinkhole in one of our parking lots. The roof would cost about $150,000. No telling what the sinkhole would cost. Our taste of financial freedom was painfully short-lived and we found ourselves feeling the pangs of financial stress again.
If you've ever experienced such a moment, you're not alone. It seems that all God's saints walked such a path of strange uncertainty. Abraham and Sarah were promised a child, and then endured decades of childlessness before Isaac was born. Joseph was given a great dream, but suddenly found himself imprisoned in an Egyptian dungeon. David was anointed king, but soon was running for his life from deranged King Saul.
On that fateful day after the Passover, when the Hebrew people felt so trapped between a tyrant and a sea, no one could have imagined the manner of grace that would liberate them for good. The very obstacle (a great, impassable sea) that appeared to be their demise, would actually become the gift that set them free.  What seemed their doom was actually their salvation.
1500 years after the Red Sea, there came another moment of seemingly, certain doom. The Son of God hung helplessly on a cross. The soldiers mocked. The disciples fled. When all seemed lost – the cross became death to the devil and life to us. He still parts Red Seas. And that's the Gospel!
---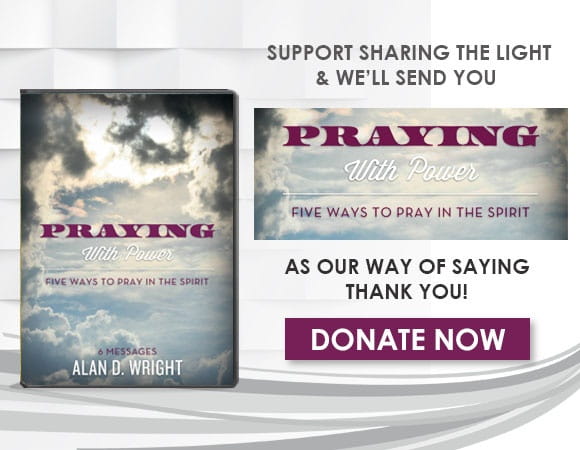 For more information please visit SharingtheLight.org.