The Death of Uzzah and the Dance of David [Part 1]
Are you ready for some good news?
"And the anger of the Lord was kindled against Uzzah, and God struck him down there because of his error, and he died there beside the ark of God. And David was angry because the Lord had broken out against Uzzah. And that place is called Perez-uzzah to this day." (2 Samuel 6:7–8, ESV)
It's a notorious, scandalous Bible story. As David and the house of Israel were parading to Jerusalem with the Ark of the Covenant, the oxen stumbled and Uzzah steadied the ark with his hand. The seemingly benign offense was met with instant death. David became angry and unwilling to take the ark into Jerusalem that day. So, the ark resided at the house of Obed-Edom for three months, and the keeper of the ark was highly blessed.
Seeing this, David fetched the ark and, as the ark came into Jerusalem, David danced before it in a linen ephod amidst shouts of joy.
What kind of story is this? What kind of God kills somebody for touching an ancient relic?
It's important to know that God had given very specific instructions regarding the transportation of the ark. There were three requirements: 1) The ark must be covered; 2) the ark must be carried by priests; 3) the ark must not be touched. All three requirements were blatantly violated. For the Lord to spare Uzzah, He would have had to go against His own word.
There is also something deeper here. The ark symbolized the presence of the Lord. When Uzzah tried to manage the ark, he tried to manage God. Eugene Peterson put it well:
"God will not be put and kept in a box, whether the box is constructed of crafted wood or hewn stone or brilliant ideas or fine feelings. We do not take care of God; God takes care of us" (First and Second Samuel, p. 163).
Trying to do the right things to manage God is religion, but letting God do the right thing in Christ to manage you is the abundant Christian life. And that's the Gospel!
---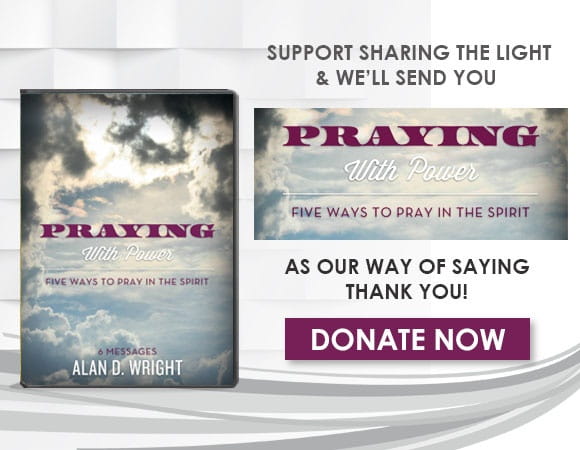 For more information please visit SharingtheLight.org.
Listen to the latest broadcast on OnePlace.com.