The Secret to Powerful Prayer [Part 3]
Are you ready for some good news?
God loves it when you pray His Word back to Him.
Text: "And you established for yourself your people Israel to be your people forever. And you, O Lord, became their God. And now, O Lord God, confirm forever the word that you have spoken concerning your servant and concerning his house, and do as you have spoken." (2 Samuel 7:24–25, ESV)
When God tells David that he and his family will be established on the throne forever, David doesn't act like he's deserved such a blessing. He knows it is unmerited. He knows himself unworthy and unlikely for such favor. But instead of rejecting the promise, David prays it back to God (2 Samuel 7:28-29).
David's prayer helps me understand the answer to the age-old question: if God is going to bless us anyway, why pray?
When my daughter Abigail was little, she wanted a guinea pig. We already had a dog, but she loves animals and she wanted a guinea pig. Her mother absolutely did not want a guinea pig. Anne had visions of a stinky cage that a little girl would fail to clean. I was on the fence. I had guinea pigs when I was a kid. They're cute little fluff balls. But, my wife was right; they mess up a cage in a hurry.
Every day, Abby asked for a guinea pig. She convinced me to look at guinea pigs at the pet store. She convinced me to get a book about guinea pigs. Finally, one night she blurted out: "Dad, do you want me to have a guinea pig?"
She had landed on the perfect question. If I had said, "Yes," Abby would have started asking for a guinea pig with greater fervor than ever. In other words, if she knew my "will" about the matter, then she would have petitioned me with even greater passion.
That's the way it is with prayer. When you pray God's Word back to God, you are petitioning your Father with requests that already match His heart. Knowing that God wants to bless you doesn't make you less fervent in prayer. It makes you a relentless prayer warrior!  And that's the Gospel!
p.s. we never got a guinea pig
---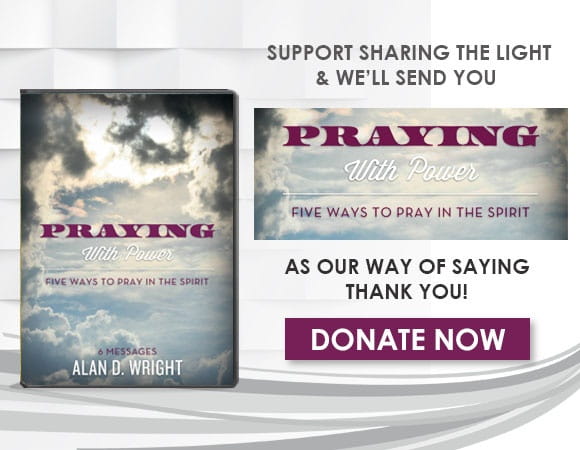 For more information please visit SharingtheLight.org.
Listen to the latest broadcast on OnePlace.com.