The Secret to Powerful Prayer [Part 2]
Are you ready for some good news?
I guess I'm an odd bird. I have a lot of friends who are Pentecostal in tradition and "Word of Faith" in theology. I also have a lot of friends who are Presbyterian in tradition and Calvinist in theology.
When it comes to prayer, my Word of Faith friends tell the Calvinists, "You act as though everything is already going to happen anyway. If God has decreed everything already, why pray? You need to learn how much authority you have to claim your blessings." My Calvinist friends respond to the Pentecostals, "You act as though you can tell God what to do. You can't just 'name it and claim it'; you have to respect God's sovereignty. God can do whatever He wants to do."
I think there's truth (as well as potential excess) in both camps. The sovereignty of God isn't in conflict with the power of claiming God's promises in prayer – it's the substance of it.  One of the best examples of such prayer is in the all-important chapter of 2 Samuel 7:
"And you established for yourself your people Israel to be your people forever. And you, O Lord, became their God. And now, O Lord God, confirm forever the word that you have spoken concerning your servant and concerning his house, and do as you have spoken." - (2 Samuel 7:24–25, ESV)
When the Lord promises David that he, through his descendants, will forever reign over Israel, David responds by saying something like this: "Lord, who am I that You should make such an incredible promise? But since You said it, I'd like to take You up on Your word!"
David isn't demanding a blessing from God as if he is in charge of God. Instead, David is humble, childlike, knowing that he doesn't deserve God's blessing. That said, David is bold in his prayer because he is taking God at His word. God is not glorified when the saints disqualify themselves and reject the unimaginable goodness of God.
I like praying like this: "God, here's this incredible promise that You have made in Your Word. I probably wouldn't have ever dared to ask for it, but You did promise it. Therefore, I glorify You and praise You and ask You to bring this blessing to pass, just as you have promised." That's not fatalism or the "name it claim it" – that's the Biblical way of prayer. And that's the Gospel!
---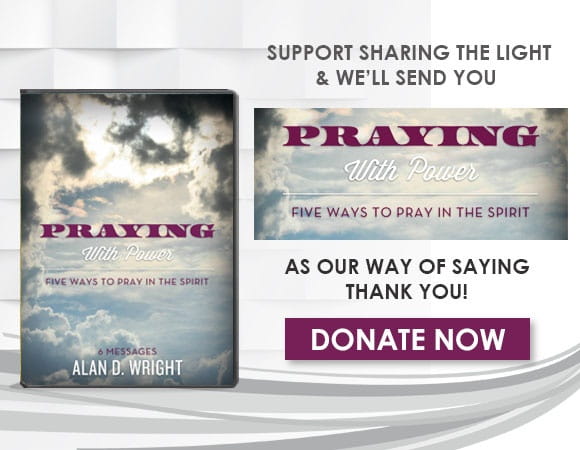 For more information please visit SharingtheLight.org.
Listen to the latest broadcast on OnePlace.com.