The Secret to Powerful Prayer [Part 1]
Are you ready for some good news?
2 Samuel 7 is one of the most important chapters in the entire Bible. God makes a
unilateral covenant of grace with David declaring that the Lord would establish David and his family as the king of Israel forever. The promise of God is breathtaking. But what beggars belief as much is the receptive response of David. The youngest son of Jesse had experienced 15 years of persecution and disappointment from the time he was originally anointed as a youth, but when David received the promise of 2 Samuel 7 he didn't shy away from the great things God declared. Instead, David prayed God's promise back to God:
"And now, O Lord  God, you are God, and your words are true, and you have promised this good thing to your servant. Now therefore may it please you to bless the house of your servant, so that it may continue forever before you. For you, O Lord God, have spoken, and with your blessing shall the house of your servant be blessed forever." -  (2 Samuel 7:28-29)
Interestingly, in the original Hebrew text, there are almost exactly the same number of words in David's prayer as are in the God's pronouncement.
Herein is the secret to a powerful prayer life: pray God's Word back to God!
God is most glorified when we believe His willingness to bless us and actively agree in prayer with His good intentions. When you are blessed, God is glorified. God isn't reluctant to do the good things He has promised. God is delighted for His children to agree in faith with His goodness.
Essentially David prays: "Lord, who am I that You would make such wonderful promises? But since You have, let me be blessed just like You've said!" God made precious, powerful promises to David and Israel's king prayed them back to God. You can do the same! Pray God's Word back to God and your prayer will become powerful. And that's the Gospel!
---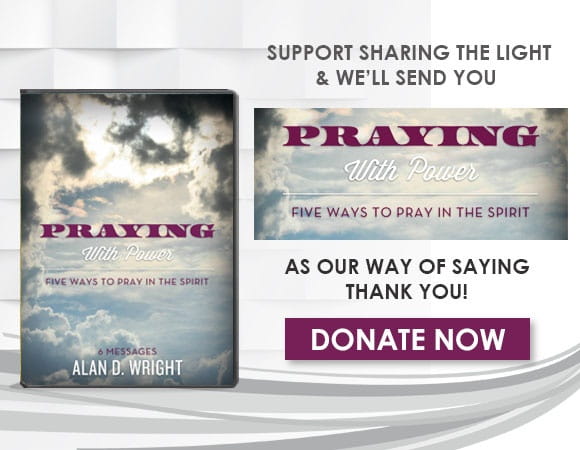 For more information please visit SharingtheLight.org.
Listen to the latest broadcast on OnePlace.com.