Wisdom and Power [Part 2]
Are you ready for some good news?
Though it may be hidden from the eyes of the world, when you receive the marvelous revelation of God's grace in Jesus Christ, it brings you might.
Text: "To you, O God of my fathers, I give thanks and praise, for you have given me wisdom and might, and have now made known to me what we asked of you, for you have made known to us the king's matter."" (Daniel 2:23, ESV)
After King Nebuchadnezzar's troubling, indecipherable dream stumped his Babylonian wise men. Daniel, the erudite Hebrew exile, stepped forward boldly with a claim that his god, the true God, could give the dream and its interpretation.
God had brilliantly set the stage to show forth His glory while pouring out favor upon Daniel. Nebuchadnezzar, Babylon and the sorcerers seem to have the power until one unexplained dream made room for the spiritual gifts of the foreigner, Daniel.
Beloved, do not worry about the boastings of the pagan nations. Do not be anxious when it seems that the culture seeks to crush. Fear not the roaring of the enemy, that old lion so full of lies. God can silence the loudest roar and render impotent the most ghastly occultist with one unexplained mystery.
When King Nebuchadnezzar was troubled by a dream that none of his soothsayers could explain, God had set the stage to teach His lessons to Babylon and to us all. Whoever has the wisdom, has the might. Whoever receives God's revelation, receives God's strength. Whoever hears from God, is given the ultimate gift. When God reveals Himself to you in Christ, you have received the ultimate prize.
Daniel had no power in the eyes of Babylon, but because he knew the Lord, Daniel had the only real power.
The strength of your life is not defined by your physical prowess, agility or endurance. The power of your life is not portrayed by your skill, accomplishment or wealth. What makes you mighty is revelation from the Lord. When you are in Christ, you have the Word of God. The Word makes you wise and when you are wise, you are strong. And that's the Gospel!
---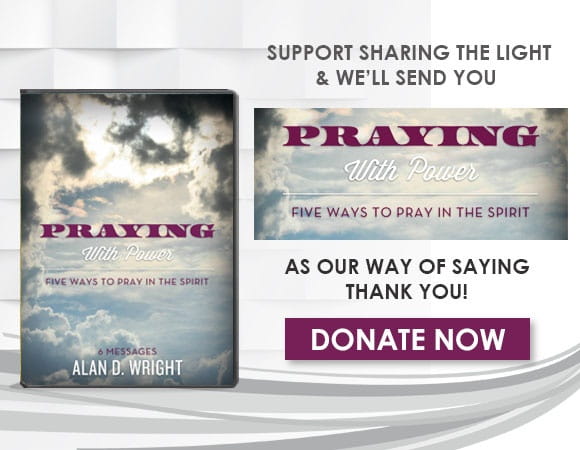 For more information please visit SharingtheLight.org.
Listen to the latest broadcast on OnePlace.com.