Christ, Our Exile [Part 3]
Are you ready for some good news?
Daniel was an exile. But he was blessed. We're like aliens in this world. But we're blessed with every spiritual blessing in Christ.
Text: "As for these four youths, God gave them learning and skill in all literature and wisdom, and Daniel had understanding in all visions and dreams. At the end of the time, when the king had commanded that they should be brought in, the chief of the eunuchs brought them in before Nebuchadnezzar. And the king spoke with them, and among all of them none was found like Daniel, Hananiah, Mishael, and Azariah. Therefore they stood before the king. And in every matter of wisdom and understanding about which the king inquired of them, he found them ten times better than all the magicians and enchanters that were in all his kingdom." (Daniel 1:17–20, ESV)
When Nebuchadnezzar brought Daniel and in his friends into the royal court, the Babylonian king thought he was simply harnessing the best and the brightest of the Hebrews for his own use. But God had a greater, sovereign plan. Daniel was no pawn of Nebuchadnezzar's. Daniel was an instrument of God. Nebuchadnezzar wanted to give Daniel the best Babylonian food to eat, give him a Babylonian name, tell him about the Babylonian deities, teach him the Babylonian literature so he could induct him into their pagan ways.
Instead of being brainwashed, Daniel and his friends stayed in love with God and, at the same time, were "ten times better" than the king's men.
Daniel isn't just a great hero – he's a picture of Christ. Jesus is the ultimate Daniel. Christ's is a story of One who was exiled on our behalf and favored for our well being. He was One who came to love but not be dominated. He was an exile in the world. He was abandoned at the cross – for you.
Christ was exiled in the world so that we would never be exiled from God. He gave up His Heavenly home so that we could be reunited with our home in Him. And that's the Gospel!
---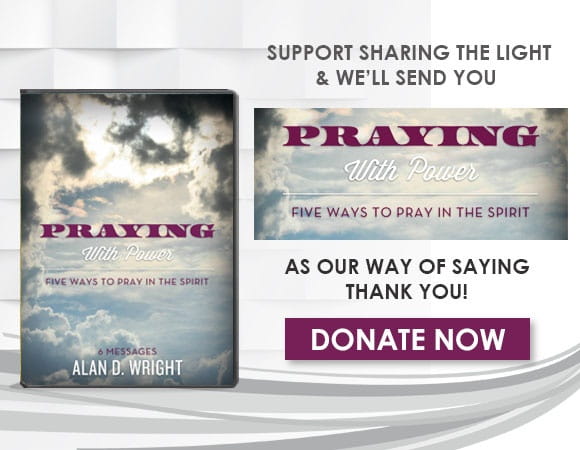 For more information please visit SharingtheLight.org.
Listen to the latest broadcast on OnePlace.com.