Overtime part 3
Are you ready for some good news?
Sometimes life is like a sports game that suddenly, unexpectedly goes into "overtime." It doesn't mean that you've lost. It just means there's more time on the clock.
Text: "And the time that David was king in Hebron over the house of Judah was seven years and six months." (2 Samuel 2:11, ESV)
David faced an "overtime" situation. After years of persecution, he finally was given a throne, but it wasn't the throne he'd expected. He became king of Judah, but it would be years before he would become king over all of Israel. He thought the game was over, but he had to go out and keep playing.
When life hands you overtime, the first temptation is despair – to give up. When you feel like despairing, thank God for what you have. You are further along than you were. You have some skills and wisdom that you didn't have before. You have gained ground.
The second temptation is impatience – to run ahead of God's plan. If you're feeling like rushing to the Jerusalem throne before you're authorized, remember: God's got this. It's not time to panic; it's time to pray. Wait on the Lord and let Him renew your strength.
The third temptation is complacency – to settle in to what you have, even though it's not all that God promised. When you are feeling complacent, keep in mind: You aren't designed to walk by sight, but by faith. You might be in Hebron for a while, but you aren't going to be there forever. Don't stop now.
We live in the "already" and the "not yet." We're already in the kingdom, but we're not yet in Heaven. There's more to do, more life to live. Life has so much unfinished business. But Jesus, who never despaired, never was impatient, and never grew
complacent, finished a work on our behalf. Our work isn't finished, but Jesus' is! You can face the "overtimes" of life by keeping focused on the full, complete, atoning work of Jesus!! And that's the Gospel!
---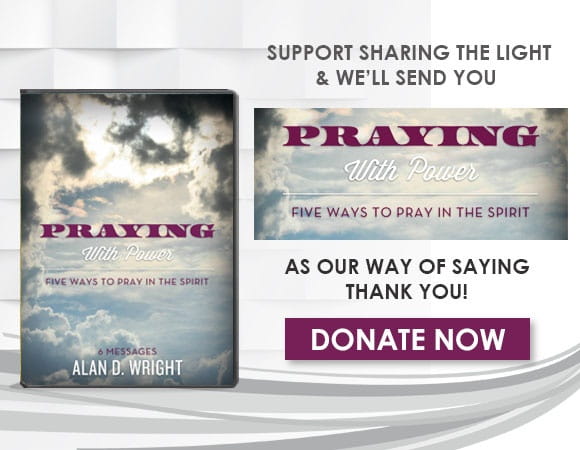 For more information please visit SharingtheLight.org.
Listen to the latest broadcast on OnePlace.com.