A Rose for a Rose [Part 2]
Are you ready for some good news?
Women, if you have experienced dishonor and shame, you can forgive and you can be healed. Sometimes it helps to hear an apology even if it isn't from your offender.
Today's text: "… she took of its fruit and ate, and she also gave some to her husband who was with her, and he ate." (Genesis 3:6–7, ESV)
Today's radio broadcast airs the second part of one of the most emotionally gripping messages I've ever preached. Years ago, Sunday fell on Valentine's Day. I had an idea. What if every woman at church received a rose and, more than that, a word of honor from a gentleman?
I planned to preach briefly about the need for men to honor women rather than blame them as Adam did Eve. As I sat meditating in my study on Friday morning, I confessed to the Lord any of the ways that I might have dishonored my wife or any woman for that matter. What began as a simple prayer grew into a torrent of grief for the dishonor that men have shown women. The holy presence of God enveloped me and I was lost in prayer for women everywhere.
On Sunday morning, I preached only briefly before weeping and reading a written confession to women on behalf of the men who have hurt them. It's Biblical to confess on the behalf of others, Nehemiah did so.
Confession simply means, "agreeing with." If I confess to you on behalf of those who've harmed you, I am not presuming to undo their offense; I am merely agreeing with God's own heart that you have suffered what you were never meant to suffer.
Here's how the confession began:
I have glimpsed the pain of the dishonored and shamed women in our world. … I believe God has sent me to you today to say I am sorry for not honoring you. I'm sorry for the way that men have abandoned women. To every little girl, whose daddy was too busy at work to notice her playschool art … for every dance recital that we missed because of needing to work late one more night … for every preacher's daughter whose father was out saving the world but didn't notice he was losing his own girl … I'm truly sorry.
 Hundreds of men joined me Sunday morning in deep repentance and compassion. Then, like a scene from Heaven, men began handing out roses to the women. Every woman received a red rose with an assurance from a man: "A rose for a rose." The sweet aroma of hundreds of roses filled the room and the aroma of Christ filled hundreds of hearts.
To every woman, I hope you'll listen to the radio broadcast or the podcast of the message today to hear the full confession. It's also written on the pages of Free Yourself, Be Yourself. It could be a huge step on your journey of healing. You can forgive. You can be free. And that's the Gospel!
---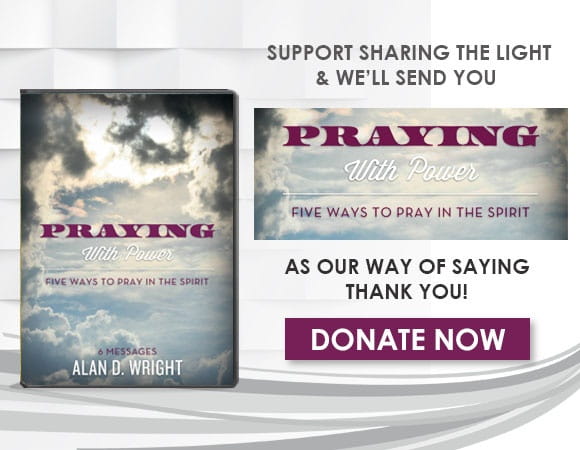 For more information please visit SharingtheLight.org.
Listen to the latest broadcast on OnePlace.com.