How the Gospel Destroys Idols [Part 2]
Are you ready for some good news?
As we embrace the love of God we can learn to be thankful for His blessings without turning blessings into idols.
Today's Text: "And we know that the Son of God has come and has given us understanding, so that we may know him who is true; and we are in him who is true, in his Son Jesus Christ. He is the true God and eternal life. Little children, keep yourselves from idols." (1 John 5:20–21, ESV)
Paul Tournier, the Swiss physician and author, said that life is like a high trapeze act. What an apt image. You swing out high, suspended in the air, riding on a blessing of God. It might be a good job or a wonderful honor – a gift from God. You hold on to this blessing as if it's a trapeze, thankful as you swing, enjoying the gift…but at some point you realize that it could be hard to let go of that blessing and reach for the next one. You begin to feel you must have that blessing in order to be at peace. That blessing has become an idol – something you think you need in order to be fulfilled. You can't let go. And now, as you begin to swing backwards, you realize that idol might destroy you.
The more that you embrace and receive the love of God, the more you can let go of the lesser loves.
We swing out on a blessed thing that the Lord has done or has given us, and then there comes a time when we let go because we're going to go to the next. But God is much more than a bar, swinging out for us to grab. God is the trapeze artist who Himself is swinging out to meet us. As we spin and turn we see His arms, and He catches us and takes on to the next place.
We can thank God for His blessings in our lives, but we can keep these lesser loves in their rightful place. Keep your hearts from idols. Trust God's love to be your fulfillment. And that's the gospel!
---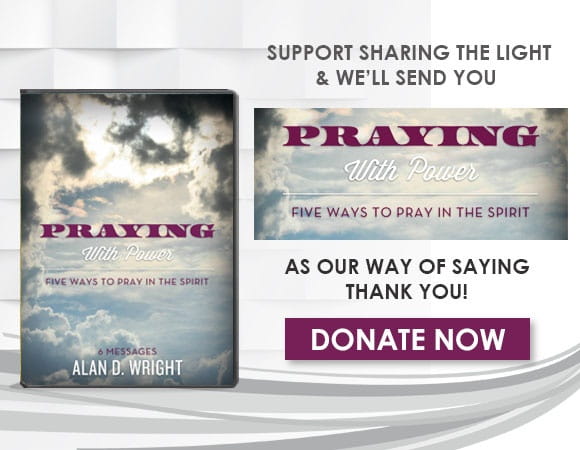 For more information please visit SharingtheLight.org.
Listen to the latest broadcast on OnePlace.com.