How the Gospel Destroys Idols [Part 1]
Are you ready for some good news?
You can let go of your idols – those things you think will bring you fulfillment outside of Jesus – and receive the love of God.
Today's Text: "And we know that the Son of God has come and has given us understanding, so that we may know him who is true; and we are in him who is true, in his Son Jesus Christ. He is the true God and eternal life. Little children, keep yourselves from idols." (1 John 5:20–21, ESV)
As we near the end of our broadcast series on the book of 1 John, where we've considered the unending, comprehensive, epic love of God, we come to a strange conclusion of the epistle. After five chapters extolling the love of God, John ends this book with what is at first an odd sounding phrase: "Little children, keep yourselves from idols" (1 John 5:21).
John hasn't spoken about idols before this point, so it's very likely that he's not talking about literal, physical idols, but rather the things we believe we need in order to be fulfilled. Idols make us think, "If I had this, then I could really be at peace and know that I'm loved." An idol isn't something that we use to replace our faith in God; it is something we add to our faith in God. The Hebrews fashioned their famous golden calf in the middle of a festival to the Lord!
An idol may have begun as a blessing. But hell wants good things to become ultimate things.  The danger of idols is that, though we believe they will bring us life, they always end up hurting us in the end.
Throughout the epistle, John deals with two idolatrous thought patterns. First, John addresses the idea that Jesus wasn't really God. We must understand that Jesus, fully man, died on our behalf and was raised by the power of God. We cannot add anything to the completed work of Jesus. Do not buy into this way of thinking, John says. Nothing will bring you fulfillment outside of Jesus.
Second, John counters the notion that you have to have special knowledge in order to really be close with God. John says, You have an anointing. You have the Holy Spirit in you. You don't need anything else.
Little children, keep your hearts from lying idols which tell you that you need something more than Jesus to be loved and accepted. You are blessed and forever protected. You need cling to nothing more. And that's the gospel!
---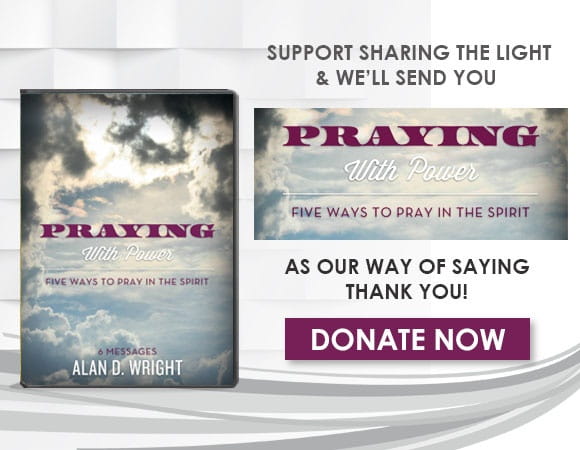 For more information please visit SharingtheLight.org.
Listen to the latest broadcast on OnePlace.com.