The Bride from the Brothel [Part 2]
Are you ready for some good news?
When you're in Christ, you can count on these truths: God chose you. God loves you. You belong to God.
Today's Text: "Beloved, let us love one another, for love is from God, and whoever loves has been born of God and knows God. Anyone who does not love does not know God, because God is love. In this the love of God was made manifest among us, that God sent his only Son into the world, so that we might live through him. In this is love, not that we have loved God but that he loved us and sent his Son to be the propitiation for our sins. Beloved, if God so loved us, we also ought to love one another." (1 John 4:7–11, ESV)
Have you ever noticed how seemingly arbitrary love really is?
I once spoke to a family that had gone to the animal shelter and rescued a dog. Within a matter of just a few days after the adoption, they found the dog to be quite ill and in need of much veterinary care. They now felt a little bit of a quandary because they got the dog for free, just to help the dog, but within a couple of days they had fallen in love with the dog because the dog was their dog.
The veterinary bills were staggering. They weren't even sure the dog would ever be completely well, and yet here they were months later with a dog on their hands that they couldn't help but love. They didn't love the dog until they had the dog. But once it was their dog, they couldn't help but love it and sacrifice for it.
If you can believe that someone can love a dog just because it belongs to him, how much more can you believe God loves you because you belong to God!
Love is not this whimsical, emotional, flimsy idea that we see in the romance novels. Love is something that is seated in choice. Love is something that happens when people are bound up in covenant. Covenantal love is different from emotional love. Covenantal love is a love that is set upon you because you belong to God. You can know that God loves you because God is love. His very nature is love. He generates all of the love; you do not generate it.
"[T]his is love, not that we loved God, but that God loved us" (1 John 4:10). God is love, and He wants to show you His love. As Paul says, we were chosen in Christ before the foundation of the world, and by love we were predestined to be adopted as His sons and His daughters (Ephesians 1:4-5). Beloved, you were chosen. So you are loved. And that's the gospel!
---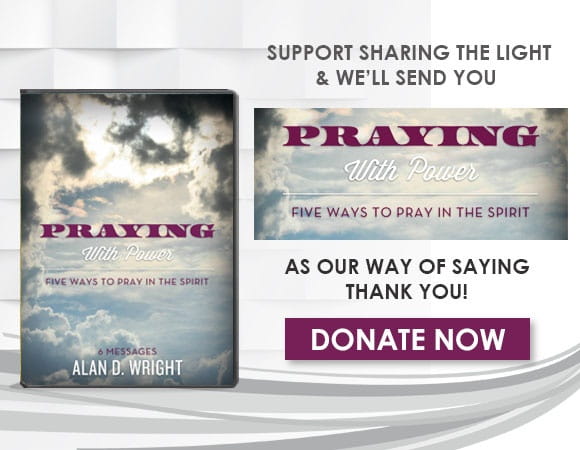 For more information please visit SharingtheLight.org.
Listen to the latest broadcast on OnePlace.com.