The Cure for Self Condemnation [Part 3]
Are you ready for some good news?
God wants you to be so confident and secure in His love that you can stop being self-conscious and start being God-conscious.
Today's Text: "Little children, let us not love in word or talk but in deed and in truth. By this we shall know that we are of the truth and reassure our heart before him; for whenever our heart condemns us, God is greater than our heart, and he knows everything." 1 John 3:18-20
John's contrast of reassured hearts versus self-condemning hearts reminds me of a typical misinterpretation of the "prodigal son". I have often heard it said that the younger brother only cared about himself. He went away and spent all of his inheritance in riotous living because he loved only himself. Loved himself? Really?
Think for a moment about somebody that you really love – a spouse, a child, a parent, a friend. Would you ever advise that person to do what the prodigal son did? Would you ever counsel them toward running away from a home where they're loved? Would you ever urge them to take their inheritance and squander it? Would you ever nudge them to waste their time and money? Of course not! You would only do that to somebody that you hated, as a kind of condemnation or punishment.
If you put your own life onto a destructive path, it's not because you love yourself; it's because there is some part of you that disdains yourself.
The big problem in our lives is not that we care so much about ourselves. Generally, the problem is that we are absorbed with ourselves. We don't really know how to accept ourselves in Christ, and because of that, we can never forget about ourselves.
In 1 John 3:18-24, John tells us that he doesn't want us to be self-conscious in the presence of God. He wants us to be wonderfully, deliciously God-conscious. He wants us to be so assured and so confident in what Jesus Christ has done for us that our hearts are convinced that we're His children and heirs.
God hasn't designed us to walk around all the time thinking, "Am I good enough? Did I do enough? Does that person like me? Am I looking okay today?" God wants us to be free from all of that. Instead, He wants us to receive an incredible gift of security so that we can forget about yourselves and set our minds on Christ. And that's the gospel!
---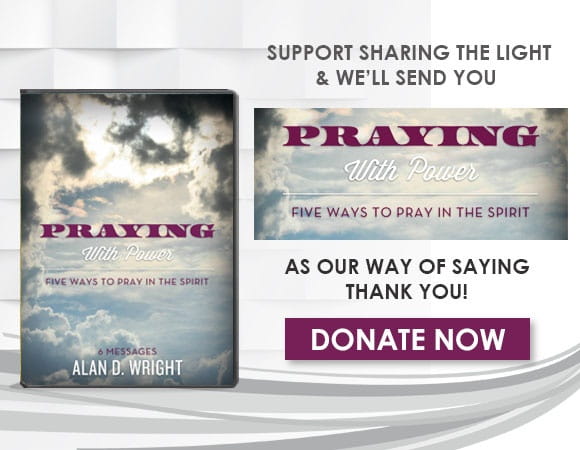 For more information please visit SharingtheLight.org.
Listen to the latest broadcast on OnePlace.com.