You're the Body of Christ [Part 2]
Are you ready for some good news?
You're one with Christ and with every believer!
Today's Text: "I therefore, a prisoner for the Lord, urge you to walk in a manner worthy of the calling to which you have been called, with all humility and gentleness, with patience, bearing with one another in love, eager to maintain the unity of the Spirit in the bond of peace. There is one body and one Spirit—just as you were called to the one hope that belongs to your call—" (Ephesians 4:1–4, ESV)
We're in chapter four of Ephesians this week where Paul speaks sublimely of the unity and diversity of the body of Christ. When he describes the unity of the church, Paul urges us to be "eager to maintain the unity of the Spirit in the bond of peace."  When you discover the sweetness of unity, your soul becomes zealous to maintain that unity.
When I was a senior in high school, our tennis coach was also the assistant basketball coach. As the Page High School Pirates advanced in the basketball playoffs, tennis season commenced, but Coach Brown couldn't be there, so he asked me to coordinate the practices. No one was being cut from the team yet. He just wanted me to make sure everyone warmed up and then was divided up across the six courts for practice. About a week into my substitute "coaching" duties, I had developed a distaste for a sophomore who, although an excellent tennis player, was rude and boastful. One afternoon, I noticed that this sophomore bully had just swatted a ball (after the point was over) at a little freshman. I forgot who I was and what I was supposed to be doing. I dashed across several courts, got in the bully's face and shouted, "That's it! I've had it with you. You're off the team!"
That night, the phone rang at my house. "Coach Wright, this is Coach Brown. How'd practice go?" My coach was gentle but firm. In asking me to watch over the practices, he had not authorized me to kick one of the best players off the team.
Ha! Well, the point is clear enough. If I, as a sinful senior in high school, was zealous to protect the unity of a tennis team, how much more zealous is the Spirit of Jesus Christ to watch over and protect the unity of the body of Christ. He died for our unity. He is at war for our unity. He is our head. We are His body. And this unity will not be denied. And that's the gospel!
---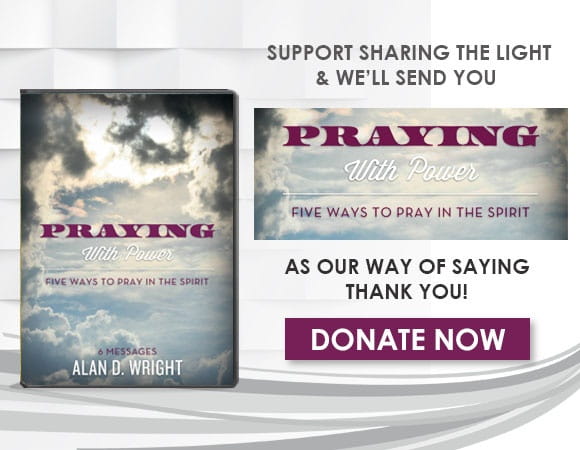 For more information please visit SharingtheLight.org.
Listen to the latest broadcast on OnePlace.com.