From Stranger to Royal Priest [Part 2]
Are you ready for some good news?
You are a "holy nation."
Today's Text: "But you are a chosen race, a royal priesthood, a holy nation, a people for his own possession, that you may proclaim the excellencies of him who called you out of darkness into his marvelous light." (1 Peter 2:9, ESV)
Everyone in Christ is holy.
Holy means "set apart." That's what you are in Christ. Holiness isn't a reference to your personal piety (as important as that may be). It isn't a description of your religiosity or righteousness or morality.
To be "holy" means to be "set apart" unto God. You belong to Him. It means there is nothing about you that is ordinary or "mundane".
My brother recently had the avid golfer's dream come true. He played the world famous Augusta National, home of the Master's. I lived it vicariously through him as he recounted the day, hole by hole. His Christmas present to me this year was a hat from the August pro shop.
They don't sell those at Walmart.
They don't sell them anywhere – but at the Augusta National pro shop.
So, it's set apart from the dozens of other golf hats I own. I won't wear it in the rain. I won't wear it when I'm doing yard work. In fact, I think I'll try not to sweat in it. Why? Because it's not just any hat.
That's the idea of holiness in the Bible.
In ancient Israel, if a vessel was "holy," it meant it was only to be used in the service of the Lord at the temple. If such a vessel were misused, it didn't cease to be holy. For example, when Babylonian king Belshazzar commanded that the holy vessels stolen earlier from the Jerusalem temple be brought into Belshazzar's drunken festival, the pagans drank from the holy vessels and praised their idols. But the vessels were just as holy.
In fact, what makes the famous Belshazzar-hand-writing-on-the-wall story so appalling is the grotesque misuse of the holy vessels.
In Christ, you are holy. If you choose to do something unholy, you run contrary to your new nature, but you do not cease to be holy. You will be far more victorious over sin by awaking in the morning and, instead of telling yourself that you are  a sinner, remind yourself that you are holy. And that's the Gospel!
---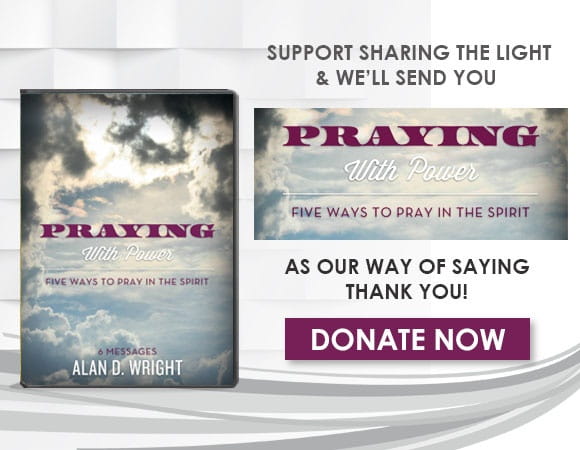 For more information please visit SharingtheLight.org.
Listen to the latest broadcast on OnePlace.com.