Your Day in Court [Part 2]
Are you ready for some good news?
When the scripture envisions a heavenly courtroom, you and I should be the ones on trial … except, the charges against us have been dropped!
Today's text: "Who shall bring any charge against God's elect? It is God who justifies. Who is to condemn? Christ Jesus is the one who died—more than that, who was raised—who is at the right hand of God, who indeed is interceding for us." (Romans 8:33–34, ESV)
Several places in scripture picture the drama of eternal life versus eternal death as a courtroom scene (e.g., see Psalm 119:54; Daniel 7:22; Isaiah 43:25-26; John 8:14-18; 1 Cor. 4:3). God the Father is the judge. Satan is the accuser. Christ is our advocate. And we are the ones on trial.
But, when a child of God is accused, the case is dismissed before it even begins because the debt has already been paid.
The Judge is perfectly just. Therefore, he must acquit the believer because it would be unjust for a judge to administer a penalty against two people for the same offense. Because Christ has become your sin, God is "faithful and just" to forgive you (1 John 1:9). His mercy is wonderful and knows no end. But it is not the mercy of the Judge that acquits you. It is His justice. Sin has already been paid for in Christ. There is no debt left for the Christian. There can be no demand for payment or penalty.
Only in this glorious revelation can we truly receive and rejoice in the victory that is ours. It is momentous knowledge to discover yourself truly innocent in the eyes of the Judge. Then, and only then, can you rightly rebuke your accuser. It is in this knowledge that you can "resist the devil" such that he will "flee from you."
In other words, the roar of the lion has been silenced. All the devil's accusations against you immediately fall impotently to the ground in the light of our Advocate. In other words, evil must flee in the name of Jesus.
And that's the Gospel!
---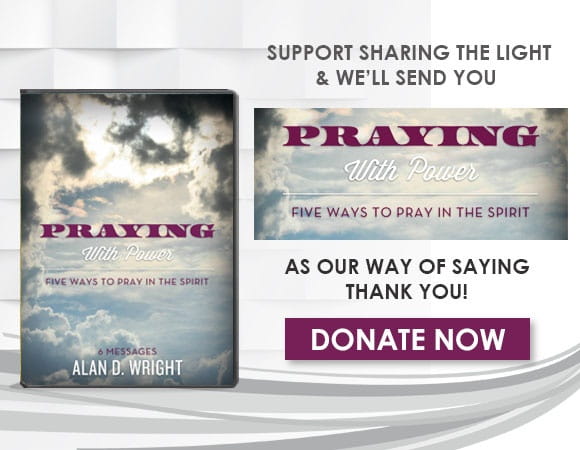 For more information please visit SharingtheLight.org.
Listen to the latest broadcast on OnePlace.com.