The Terrible, Wonderful Day of the Lord [Part 1]
Are you ready for some good news?
The One who has power to judge you, loves you so much that he died for you in order to make you His forever – forgiving you and counting you righteous. Therefore, if you are in Christ, far from fearing judgment day, you can look forward to it with unspeakable joy.
Today's Text: "Blow a trumpet in Zion; sound an alarm on my holy mountain! Let all the inhabitants of the land tremble, for the day of the Lord is coming; it is near," (Joel 2:1, ESV)
You've probably heard it preached. Be prepared – one day you're going to meet your Maker. And on that ominous judgment day, there will be a massive TV screen replaying all the scenes of your life. Everything bad thing you've ever done will be broadcast, not just for you to see, but others as well. Your grandmother will be there along with your first grade teacher. So, be careful what you do on earth – one day all will be laid bare when you meet your Maker.
It's true that one day you're going to meet your Maker. And, if you have rejected Christ and scorned His offer of grace, that judgment day will be full of woe. But, for anyone in Christ, judgment day will be the most wonderful day imaginable.
If your sin is cast as far as the east is from the west, will it be restored to you on judgment day? If your sin has been thrown in to a sin of forgetfulness and is remembered no more by God, will it be resurrected and thrown in your face on judgment day? Of course not!
Your sin has been judged on the cross of Jesus Christ. There is no judgment that remains for you. It would be unthinkable, unethical and cruel to make two people bear the same shame. Christ has already born your shame. There's no shame left for you on judgment day.
The famous "day of the Lord" in the Old Testament was profoundly fulfilled in an astonishing way. When Peter preached the Pentecost sermon, he referenced the "day of the Lord" saying, "This is that of which the prophet Joel spoke." It was day of glory and unspeakable joy. The future judgment will be like that too.
In other words, the future day of the Lord for the believer is guaranteed to be at least as good as the "day of the Lord" that first Pentecost. God didn't save you so He can later condemn you. Be free from the fear of judgment day – your sin has already been judged at the cross. And that's the Gospel!
---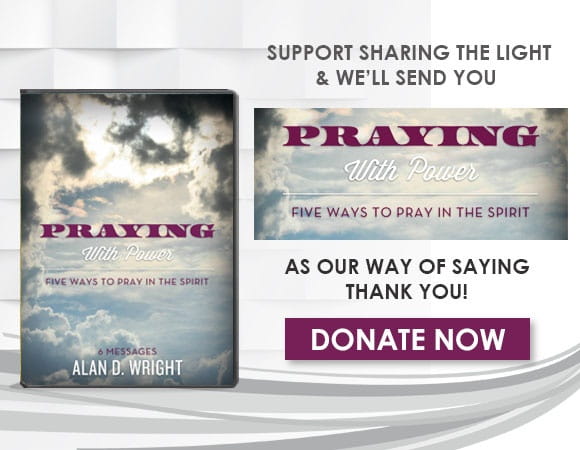 For more information please visit SharingtheLight.org.
Listen to the latest broadcast on OnePlace.com.