From Law to Gospel [Part 2]
Are you ready for some good news?
The Gospel of the Lord Jesus Christ is a gospel of grace, through and through. It can't include law and still be the gospel. You're free in Christ. Free indeed.
Today's Text: "But when I saw that their conduct was not in step with the truth of the gospel, I said to Cephas before them all, "If you, though a Jew, live like a Gentile and not like a Jew, how can you force the Gentiles to live like Jews?" We ourselves are Jews by birth and not Gentile sinners; yet we know that a person is not justified by works of the law but through faith in Jesus Christ, so we also have believed in Christ Jesus, in order to be justified by faith in Christ and not by works of the law, because by works of the law no one will be justified." (Galatians 2:14–16, ESV)
Peter, having received the fullness of the Spirit and the liberty of the Gospel, came under pressure to return to his "Jewishness" by refusing to eat with Gentiles. Perhaps Peter rationalized it this way: if I am seen eating with Gentiles, my Jewish friends will reject me and I will lose the opportunity to share the Gospel with them.
When Paul learned of Peter's compromise, he was incensed and rebuked Peter face to face. If the Gospel is contaminated with a little law (I am more holy if I don't eat with Gentiles), then the whole of the Gospel is spoiled. As the whole glass of water becomes poisoned by one drop of cyanide, the whole of the Gospel is poisoned by even the smallest injection of legalism.
The understanding of holiness was at stake.
The Jewish people lived with ceremonial holiness laws. The Levitical codes provided detailed instructions about what foods were clean and what were unclean. Likewise, the people were instructed not to associate with the unholy Gentiles (and were never to eat with them).
Holiness, under the system of the law, was marked by keeping the law – guarding what you touch, eat or do.
But the Gospel makes clear that holiness is not something that you accomplish. It's something that is accomplished for you. The writer of Hebrews declares it plainly:
"And by that will we have been sanctified through the offering of the body of Jesus Christ once for all." (Hebrews 10:10, ESV)
When you accept Christ, you are set apart unto God as His treasured child. Your holiness is not a goal to aspire toward; it is a reality to be adjusted to. When Peter stopped eating with the Gentiles to be "more holy," Paul couldn't stand it and rebuked the brother to his face. You're free from the law in the Christ. And that's the Gospel!
---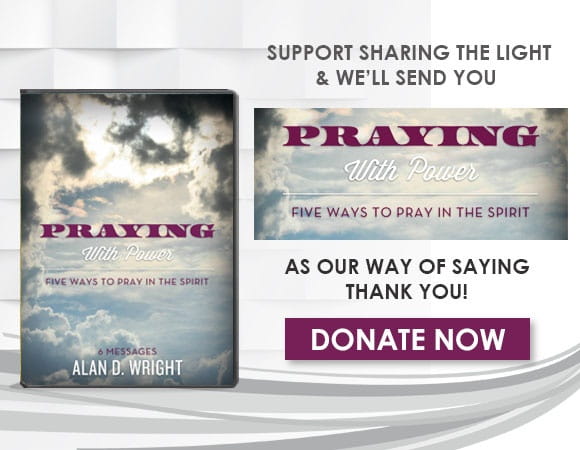 For more information please visit SharingtheLight.org.
Listen to the latest broadcast on OnePlace.com.