Death Be Not Proud [Part 1]
Are you ready for some good news?
In Jesus, we no longer need fear death, because we have a great assurance of Heaven.
Today's Text: "Since therefore the children share in flesh and blood, [Jesus] himself likewise partook of the same things, that through death he might destroy the one who has the power of death, that is, the devil, and deliver all those who through fear of death were subject to lifelong slavery." - Hebrews 2:14-15
When people are surveyed about what they fear the most, death is not usually on top of the list. Isn't that interesting? Fear of public speaking is often number one, and others that make up the top ten regularly include fear of spiders, fear of flying, fear of heights, and fear of being in tight spaces.
Yet the Bible shows us that the primary temptation of the devil from the very beginning was, "You won't really die."
God had made it very clear to Adam and Eve that they could eat of all of the trees in the Garden except for the tree of the knowledge of good and evil, or they would surely die. In reality, God had been warning Adam and Eve that, if they ate from that tree, death would come to all humanity. As soon as Adam and Eve yielded to the devil's deception and disobeyed God by eating from that tree, sin entered the world, and with it entered death. Adam and Eve understood that God never violates His own word (if He did, He would not be good, just, or reliable), so once they had sinned, they knew they would surely die, and they were afraid.
And so, we desperately try to mask our fear of death. But it's primal. That is why the writer of Hebrews explained that Jesus became human in order to take on the sins of humanity, bearing our punishment so that we might be liberated from our lifelong bondage to the fear of death. Through His death and resurrection, we received the promise of eternal life. The more assured we are of Heaven, the less we are afraid of dying, and the more we are able to passionately live today!
That is God's amazing twist of grace. He turned that which was meant for evil into that which is good, so that while death on the one hand is an enemy – the last enemy, according to Paul (1 Cor. 15:26) – God, through His redemptive power, has harnessed it for our ultimate good. Death is the door through which we enter glory. And that's the gospel!
---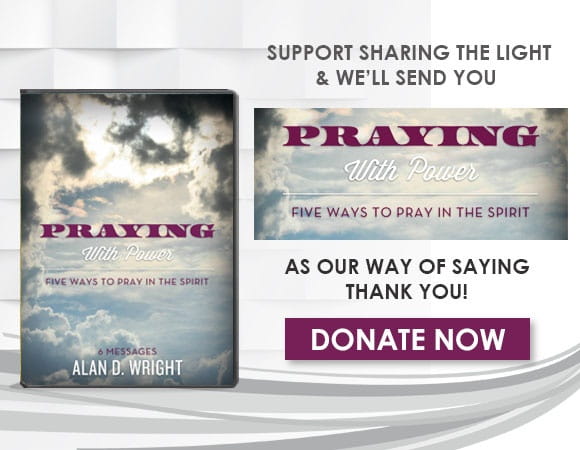 For more information please visit SharingtheLight.org.
Listen to the latest broadcast on OnePlace.com.