A New Heaven and New Earth part 2
Are you ready for some good news?
The Garden of Eden was a paradise, but the new Heaven and Earth will be even better!
Today's Text: "Then I saw a new heaven and a new earth, for the first heaven and the first earth had passed away, and the sea was no more. And I saw the holy city, new Jerusalem, coming down out of heaven from God, prepared as a bride adorned for her husband. And I heard a loud voice from the throne saying, "Behold, the dwelling place of God is with man. He will dwell with them, and they will be his people, and God himself will be with them as their God." (Revelation 21:1–3, ESV)
As our radio broadcast series continues with the good news of Heaven's glories, we turn our attention again today to the promise of a "new heaven and a new earth." God isn't going to scrap the world or burn it up – He's going to recreate it. In the same way that God is going to make your selfsame body new, He is going to make this very earth new.
When God created the world He said, "It is good." There is so much to love about our lives on Earth –natural beauty, relationships, art, culture. But the Earth, like our lives, has been corrupted by sin. In this world, we will all experience pain and trouble. And, sometimes, life gets so hard that the hope of Heaven is all that we have. We have been told over and over that we need to avoid worldly things, but the fact of the matter is that this is still God's good world. There is beauty and joy here that we love.
We weren't made for the world as it is now – corrupt and decayed – but God has a plan for a new Earth. In a way, it will be like the Garden of Eden. God's new Heaven and Earth will be a perfect union of God's Heavenly glory and earthly bliss. Like Eden, there will be no suffering, no disease, no tears and no shame.
But the new Heaven and Earth is better than Eden. The Bible describes Heaven as a place where God is present among His people, replacing the sun with His own light. In the day of the new Earth, we will return to all that is pristine, pure, and glorious, but our memories, accomplishments, relationships and culture will not be thrown away. We won't return to an Eden where there has been no innovation, no art, no symphony, no video, no sports, no calculus, no astronomy or poetry. Imagine Eden with all the continuity of everything that is good in the history of the world. That's our future home. That's our new Eden. That's our new Earth united with Heaven forever! And that's the gospel!
---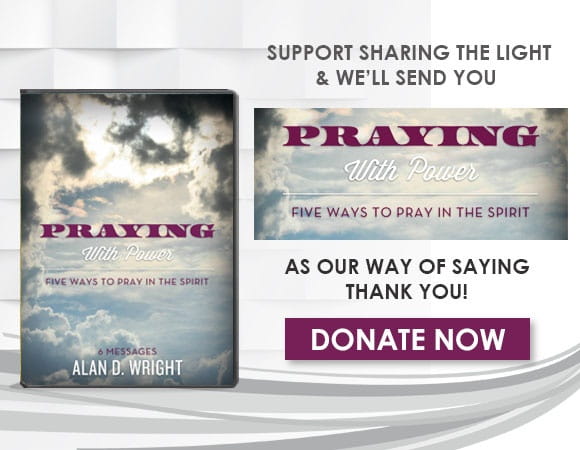 For more information please visit SharingtheLight.org.
Listen to the latest broadcast on OnePlace.com.