Awe and Intimacy [Part 1]
Are you ready for some good news?
God is so holy that any encounter with Him strikes your heart with awe. But He is so good that any Christian is welcomed into His presence like a little child
Today's Text: "But the woman, knowing what had happened to her, came in fear and trembling and fell down before him and told him the whole truth. And he said to her, "Daughter, your faith has made you well; go in peace, and be healed of your disease."" (Mark 5:33–34, ESV)
Years ago, I wrote a worship a song about the wonder of balance in Christ. In one section, the lyric highlighted the awesome fury of Christ's holiness when He overturned the moneychangers' tables. The lyric described Jesus "with fire in His eyes." Our son Bennett was just a tot but he was quite curious about the song.
"What does it mean that Jesus had fire in His eyes?" little Bennett asked.
My wife immediately inserted herself into the conversation: "Well, Bennett, it just means that Jesus' eyes were bright and sparkling."
I couldn't allow the domestication of Jesus to linger without clarification.
"Actually Bennett," I spoke up, "when I wrote that line I was thinking about a time that Jesus was really mad because the religious leaders were being mean to people who wanted to worship God. He was angry, so I said it was like "fire in His eyes."
Bennett was silent for a bit and then chirped resolutely: "I don't want to sing about the fire in His eyes."
That's probably why I can't think of a single hymn or worship song that references Jesus being angry.
When our definition of love equals "being nice," we have no room for the aspect of love that is holy and jealous and hates what is evil. The wonder of God's personhood is that He is simultaneously awesome and yet desirous of delightful friendship with His creatures. The wonder of the Gospel is that, through Christ, God has made it possible know Him in both awe and intimacy. You can draw near to Him without fear because of the blood of Christ and, at the same time, be utterly rapt in wonder at His majesty. And that's the Gospel!
---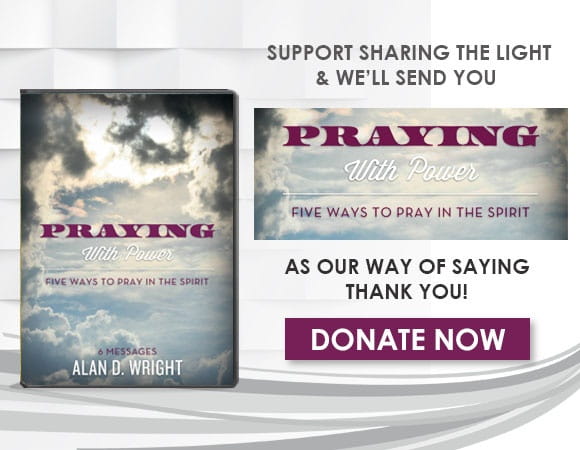 For more information please visit SharingtheLight.org.
Listen to the latest broadcast on OnePlace.com.