You Got an A+, Part 3
Are you ready for some good news?
Paul's epistle to the Galatians is a glorious announcement of freedom through the purity of the Gospel.
"For through the law I died to the law, so that I might live to God. I have been crucified with Christ. It is no longer I who live, but Christ who lives in me. And the life I now live in the flesh I live by faith in the Son of God, who loved me and gave himself for me. I do not nullify the grace of God, for if righteousness were through the law, then Christ died for no purpose." (Galatians 2:19–21, ESV)
What glorious freedom comes with our justification! If your mind is oppressed by a bit of angst that you haven't done quite enough, or you don't quite measure up, the word for that awful feeling is shame.
Wouldn't it be sad to spend your energy and your life striving to please God through your own righteousness, when He is already pleased with you through the righteousness of Jesus.  Someone has said, "Wouldn't it be sad to spend your whole life baking apple pies for God, only to get to heaven and realize that God didn't like apple pie?" Wouldn't it be sad if you spent your whole life thinking that it was sacrifice that pleases God, only to find out that the Word of God was true, that God "desires mercy, not sacrifice," and that it's all about grace at work in you? 
All forms of spiritual bondage are, in one way or another, related to this critical point. From the mildest sort of slavery to perfectionism, to the deepest demonic holds in our lives, it all comes back to, "Is it just as if I never sinned? Is it just as if I lived a meritorious life because of what Christ did for me?" And the answer is, "It is! It is!"
 You can be free. Life is short. Live it freely. Live it boldly. Come to the throne of grace boldly in your time of need. Be filled with the Holy Spirit; be filled with the life of God. Be filled with all of His goodness. Be filled with every spiritual blessing in Christ. And look forward to the day when you will live with Him forever! Nothing could ever snatch you out of his hand. Live your life like that because if God were grading you, you'd have already received an A+ through Christ. And that's the Gospel!
---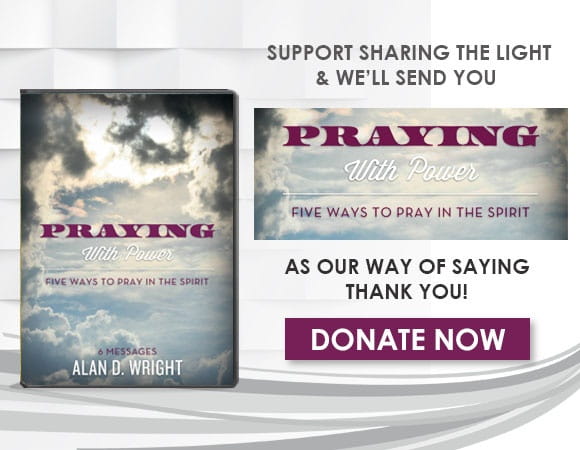 For more information please visit SharingtheLight.org.
Listen to the latest broadcast on OnePlace.com.