Spies, Lies and Alibis, Part 3
Are you ready for some good news?
You don't have to perform in order to be blessed because Jesus has accomplished everything necessary for you to enjoy the fullness of God's favor!
For the third day, our radio broadcast deals with the band of "false brothers" who began polluting the Gospel by trying to tear down the Apostle Paul and the radical gospel he preached:
"Yet because of false brothers secretly brought in—who slipped in to spy out our freedom that we have in Christ Jesus, so that they might bring us into slavery— to them we did not yield in submission even for a moment, so that the truth of the gospel might be preserved for you." - (Galatians 2:4–5, ESV)
These "false brothers" were causing unrest (both literally and metaphorically) among the believers that Paul had introduced to Christ. And Paul was furious. Beloved, if you are ever going to get bold about something, let it be about the purity of the Gospel.
Do not let any "spy" rob you of the fullness of the grace of the Lord Jesus Christ. I invite you, in the name of Jesus, to reject every voice that is tempting, alluring, taunting, mocking, or shaming you into thinking you need to do something more to receive God's blessing. Those are the voices of the spies. The devil wants you to be waiting and worrying about something else that you need to do so that every time something bad happens in your life you think, "I must not have worshipped on the right day. I must not have said the prayer the right way. I must not have been righteous enough." No! Jesus has made the way. There is nothing you need other than the blood of Jesus.
When you accepted Christ, He came to abide in you forevermore. You are the dwelling place of the Holy Spirit. You are the temple of the Holy Spirit. What more could you add to that? The Lord, the Most High God, lives inside of you. He abides in you.
Don't let anybody come against our Gospel, telling you the Holy Spirit can't move because you are not doing it right. Don't let anybody tell you that you can't be healed, you can't be filled, you can't be delivered or you can't be blessed because you're not doing it right. We will call the spies what they are – enemies in the camp – and we will reject them in the name of Jesus. God is with you always! And that's the Gospel!
---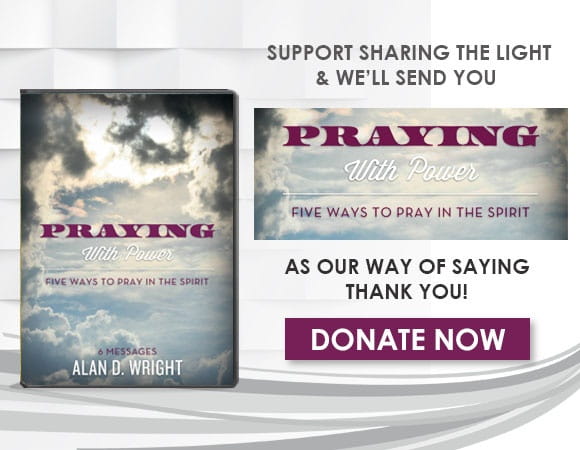 For more information please visit SharingtheLight.org.
Listen to the latest broadcast on OnePlace.com.