Image Dei [Part 3]
Are you ready for some good news?
Because you are made in the image of God, you are invited to love and accept yourself in Christ – not reject yourself, condemn yourself or reckon yourself a worm.
Today's text: "Then God said, "Let us make man in our image, after our likeness. And let them have dominion over the fish of the sea and over the birds of the heavens and over the livestock and over all the earth and over every creeping thing that creeps on the earth." So God created man in his own image, in the image of God he created him; male and female he created them." (Genesis 1:26–27, ESV)
The problem in our culture is not self love; it is self absorption. There is a fundamental difference between being self-consumed and being self-accepting. If you do not come to the place where you in Jesus Christ can accept yourself and love yourself, the only alternative is to hate yourself. And whomever you hate you want to hurt.
All of hell conspires for our condemnation, but Jesus came not to condemn, but to save and deliver.[1] Why are we condemning ourselves when the God of the universe came and died for us so that we would not be condemned?
C. S. Lewis said: We may be content to remain what we call 'ordinary people': but He [God] is determined to carry out a quite different plan. To shrink back from that plan is not humility: it is laziness and cowardice. To submit to it is not conceit or megalomania; it is obedience.[2]
When you recognize the greatness of God's love and purpose for your life, you aren't exalting yourself and it isn't pride In fact, recognizing the glory of being made in God's image is an act of obedience and worship. You glorify God by acknowledging the majesty of His creation.
God is not honored and we are not motivated when we view ourselves, speak to ourselves and confess to others that we are worthless. Instead, God is honored and we are energized for service when we view ourselves as He made us – the likeness and image of God. And that's the Gospel!
---
[2] C. S. Lewis, Mere Christianity, Book IV (paperback) (New York: Macmillan, 1967) 173.
---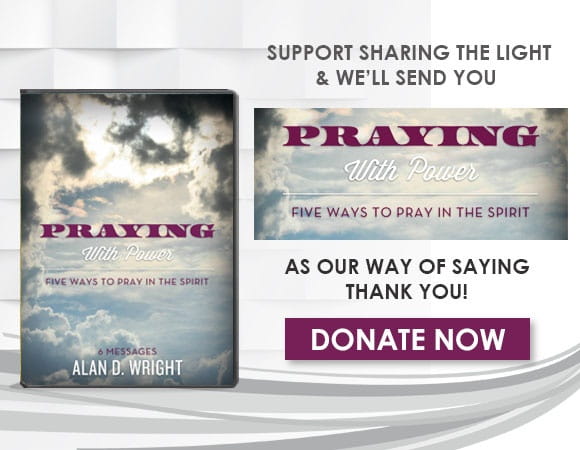 For more information please visit SharingtheLight.org.
Listen to the latest broadcast on OnePlace.com.