Bless the Lord [Part 2]
Are you ready for some good news?
As surely as the shepherds worship and the magi's gifts blessed Jesus, you can bless the Lord.
Today's Text: "Bless the Lord, O my soul, and all that is within me, bless his holy name!" (Psalm 103:1, ESV)
As we conclude this all-important series on "The Power of Blessing," it is fitting to marvel at this thought: you can bless the Lord!
As we begin preparing for Christmas, I'm mindful of how "blessing the Lord" is pictured in the Christmas story. Simple shepherds arrived with childlike praise and worship. Later, magi arrived with expensive gifts and adoration. In a true, deep sense, though Jesus came to bless, He was delighted to be blessed.
It's mind bending to consider how an all sufficient God who is already infinitely happy could be blessed by the creatures He made. Yesterday, I suggested that God's happiness is not completely alien to the idea of my own happiness as a father. Anne and I were quite happy before we had children, but when our children were born, our joy increased. Joy, like love, isn't really a quantity.  A parent can be loved by a child and then loved by a second or third child. It doesn't diminish the love of the first child to say that the second child has added love to the parent's life.
No has put this more beautifully than JI Packer in his classic, Knowing God:
"We have in previous chapters made the point that God's end in all things is His own glory. That He should be manifested, known, admired, and adored, and this statement is true but it is incomplete. It needs to be balanced by recognition that through setting His love on men, God has voluntarily bound up His own final happiness with theirs.
It follows from the very nature of these relationships that God's happiness will not be complete til all His beloved ones are finally out of trouble. God was happy without man, before man was made, He would have continued happy had He simply destroyed man after man had sinned. But as it is, He has set His love upon particular sinners and this means that by His own free voluntary choice He will not know perfect and unmixed happiness again til He has brought every one of them to Heaven. He has in effect resolved that henceforth for all eternity His happiness shall be conditional upon ours. Thus God saves, not only for His own glory, but also for His own gladness.
This goes far to explain why there is joy, God's own joy in the presence of angels when a sinner repents and why there will be exceeding joy when God sets us faultless at the last day in His own holy presence. The thought passes understanding and almost beggar's belief, but there is no doubt, according to scripture, that such is the love of God.
Your praise and love for God blesses Him. Amazing, but that's the Gospel!
---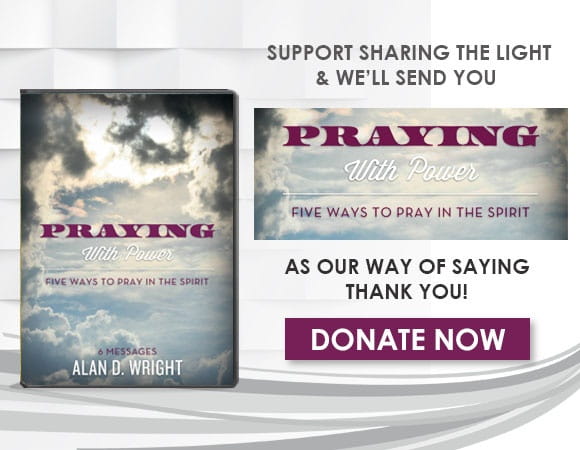 For more information please visit SharingtheLight.org.
Listen to the latest broadcast on OnePlace.com.