I Just Want to Thank You Jesus [Part 2]
Are you ready for some good news?
When you practice gratitude, it changes you for good.
Give thanks to the Lord, for he is good, for his steadfast love endures forever." - Psalm 136:1, ESV)
Researchers from the School of Psychology at the University of Manchester in England have shown that gratitude appears to be the strongest link to health (and happiness) of any character trait. According to a University of Massachusetts study, people who keep gratitude journals on a weekly basis have fewer physical sickness symptoms, feel better about their lives and are more optimistic about their future. There is also emerging research that suggests that daily gratitude practices may have preventative benefits in warding off coronary artery disease.
Gratitude is so powerful because it is linked inextricably to grace. Paul makes the connection in 2 Corinthians 4:15: For it is all for your sake, so that as grace extends to more and more people it may increase thanksgiving, to the glory of God. "Grace" is transliterated from the Greek as "charis" and "thanksgiving" is transliterated as "eucharistian." Look closely: "charis" is the middle of "eucharistian." Grace is in the middle of thanksgiving.
The grateful heart is diligently aware of grace. The practice of giving thanks is the discipline of focusing on the grace of God. In other words, when you make it a habit to thank God for all that He's done for you, grace rises to the center place of your thinking. When your psyche is infused with grace thoughts, your whole being, spirit, soul and body begins prospering.
Thanksgiving is more than turkey and football. It's the secret to abundant life. And that's the gospel! And that's the Gospel!
---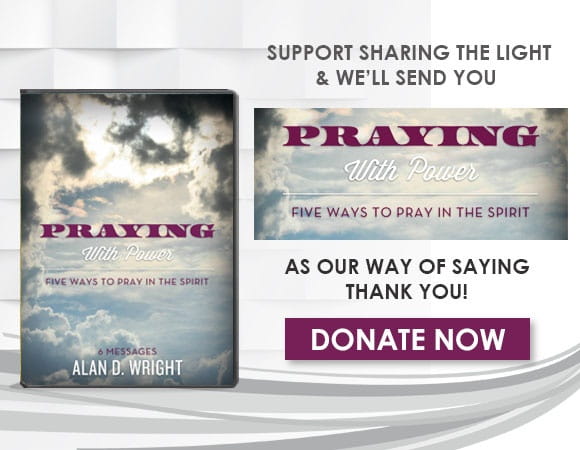 For more information please visit SharingtheLight.org.
Listen to the latest broadcast on OnePlace.com.