The Faith Building Power of God Moments [Part 2]
Are you ready for some good news?
God has always been in your life and, the more you recognize His presence, the more your faith will grow!
Today's Text:  "And David said, "The Lord who delivered me from the paw of the lion and from the paw of the bear will deliver me from the hand of this Philistine." And Saul said to David, "Go, and the Lord be with you!"" (1 Samuel 17:37, ESV)
In today's broadcast, we're learning more from the story of David about the "substance" of faith. Faith isn't based on wild speculation and it isn't mental certainty about how circumstances will unfold. Faith is ultimate confidence in ultimate truth.
David pleaded with King Saul to let him fight Goliath because he was utterly confident that God would deliver the uncircumcised Philistine into his hands. David's confidence was rooted in firsthand experience of God's faithfulness in the past. When David looked back on his life, he saw God everywhere. When David had to defend the sheep from a lion or a bear, God helped him. How much more would God be faithful to eliminate the mocking giant?
At any point in life, you may encounter truths that seem to compete or contradict one another. For example, lets imagine a scene from the days when my kids were little. Imagine I disciplined a child by temporarily taking away a favorite toy. Two truths coexist, but one is ultimate. The first truth to the child might be: I don't have my favorite toy anymore; I am not happy. But, there is a second truth – a far greater truth: My father loves me and only wants the best for me. This is temporary discipline designed to teach me.
Too often in life, our faith erodes because we focus on what we feel and what we don't understand. The day that David fought Goliath he was also berated by his brothers, belittled bySaul, and debased by the giant. There were two truths competing. On the one hand, David was unappreciated and maligned. On the other hand, God was with him and had called him to a great purpose. David's confidence soared because his mind dwelled upon the certainty of God's power and provision rather than the uncertainties of life's circumstances. Faith is ultimate confidence in ultimate truth.
God is with you and He'll never leave you or forsake you. That's the truth. That's the substance of your faith. And that's the Gospel!
---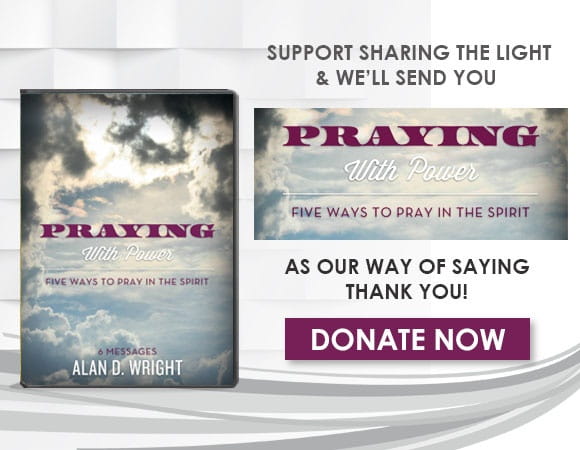 For more information please visit SharingtheLight.org.
Listen to the latest broadcast on OnePlace.com.