From Unsure to Secure [Part 2]
Are you ready for some Good News?
The more Peter was with Jesus, the more Peter became like Him. As you are with God, you become like Him.
Today's Text: "Now when they saw the boldness of Peter and John, and perceived that they were uneducated, common men, they were astonished. And they recognized that they had been with Jesus." (Acts 4:13, ESV)
Our new radio series follows the transformation of Peter's life. He was a good guy. You'd have liked him if you met him. He was a well-intentioned, inspiring, bold follower of Jesus. He would promise you the moon and mean it – but he struggled to keep his promises. He wanted to do what was right, but he had such a tough time following through on his good intentions.
Sound familiar?
What Christian doesn't want to live a holier, more fruitful life? Every earnest Christian I know would like to be more like Jesus.
But good intentions never made anyone become more like Jesus. We're changed in the same way that Peter was. By being with Jesus.
When authorities saw Peter's boldness despite his lack of education, they were shocked and "they recognized that [Peter] had been with Jesus." Something about Peter reminded them of Christ.
By the 1960's, the former vacation attraction for Atlanta's affluent citizenry, East Lake, had fallen into utter disrepair and in 1970, a public housing project was erected on East Lake's former No. 2 golf course. Conditions in the neighborhood grew so bad that local police dubbed it "Little Vietnam." Crime rates skyrocketed amidst the heavy drug trade in East Lake. But, under the visionary leadership of real estate developer Tom Cousins, the area was developed into a mixed income neighborhood.
Cousins saw it as an experiment. What if lower income kids could live next to middle-income families? What would happen if the kids whose fathers were absent or in jail could see normal families? See a dad come out of the house, get the morning paper, drive off to work and return home to his family? What would happen if kids in a toxic environment got to be with people who lived life quite differently?
What happened was plain to see and remarkable. Crime rates dropped precipitously. High School dropout rates plummeted. Drug trade was nearly extinguished.
We tend to become like the people we are with. How much, therefore, you can become like Jesus by simply being with Him! Like Peter, you are transformed not by vowing to be like Jesus. You are transformed by being with Him. And that's the Gospel!
---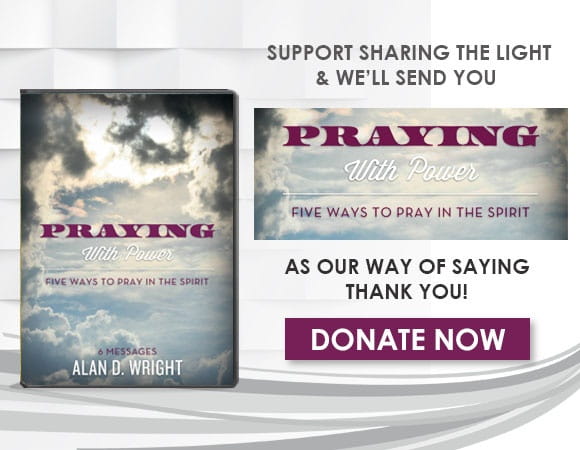 For more information please visit SharingtheLight.org.
Listen to the latest broadcast on OnePlace.com.